In mid-July, I sat down and took a good look at my online presence. How I portrayed myself as a person, a professional, and what role my website played in all of this. When I first launched my blog over 5 years ago, I was only doing freelance work part time, so my portfolio was essentially an after-thought. For the past 4 years, I've been out on my own, yet I never really beefed up the professional end of my website. The main goal of this redesign was to better balance work and play, and to step up the professional end so people know I mean business.
Blog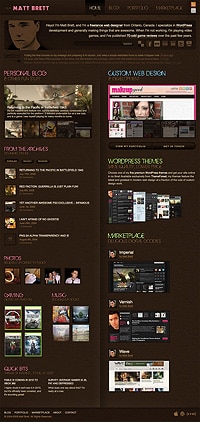 I didn't really do much with my personal blog. I pretty much had things the way I wanted them with my previous design. So I basically just made some minor refinements and tidied up some things I had tacked on since my last redesign.
It's now quicker and easier to find older content that may be of interest, via the tabbed box that sits in the top of the sidebar. It gives you quick access to related posts, the most recent posts, the most recent reviews, and the most popular posts.
Reviews have received the most love. Specifically, the review archive. The "wall of games" is sorted by date descending. But you can now filter them by platform.
On the topic of game reviews, I commissioned a fellow by the name of Jeff Jenkins to whip up some comic style character illustrations to coincide with my review scores. The idea was inspired by GiantBomb, but I wanted to do full body illustrations as opposed to waist up. Jeff exceeded my expectations and produced some brilliant work that can be seen at the bottom of every game review. You will be seeing more of Jeff's work on this here website in the coming weeks.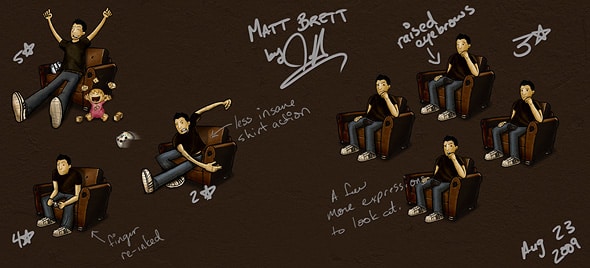 Portfolio
I'm extremely happy to finally have a condensed portfolio that is flexible and allows me to share a bit more in the way of details for each project. At this time, I only have the services I provided, but I plan on writing a little descriptive paragraph for each down the road.
Marketplace
Having recently jumped on the digital goods train, I'm quite fond of having cash rolling in constantly from sales. I wanted to build a platform of my own that allowed me to sell digital goods of various shapes and sizes. ThemeForest has worked out really well for selling WordPress themes, and I intend to keep future theme releases on that platform. But I have plans to release add-on (expansion) packs for my existing themes, and ThemeForest doesn't support that sort of thing. Through my own site, customers will be able to pick up things like additional colour schemes, added functionality, etc. at a reasonable cost.
Additionally, I have partnered with some other designers and developers who will be selling all sorts of good stuff through my Marketplace in the coming months.
I have also opened the floodgates for theme customization. Anyone who has purchased one of my themes has the option of having it customized to their liking for a small fee.
Workshop
I have one more new addition that is still in the works which will be surfacing shortly. I'm calling it my Workshop, and it's a place to get your hands on tools and tutorials on the topics of general web design and WordPress development. Much of this content will be free, but I am planning on doing some extensive screencasts which will mostly be premium (fancy word for paid) content.
The Kinks
Call me irresponsible, but I haven't even looked at this new site in any version of Internet Explorer just yet. Quite frankly, I just don't have it in me at the moment. After spending 5 solid weeks working on this site, the last thing I feel like doing is troubleshooting IE bugs. In time, I'll make sure things are in order for IE8 and IE7, but IE6 can go to hell!
Moving Forward
This redesign is still very much a work in progress. These past few weeks have been spent setting the stage for great things to come in the weeks and months to follow. I'm super excited to see how things pan out, and I'd like to take a moment to thank everyone for their continued support over the years. It's truly amazing to have some many people that I don't even know buying my products, hiring me to redesign their website, or shouting words of encouragement via Twitter. Thank you!
---