In short, I'm a web designer/developer from British Columbia, Canada (just outside of Victoria), but I grew up in the suburbs of Toronto. I've mostly been doing freelance work since mid-2005, working out of a cozy office in my home. I'm a father to two beautiful, strong-willed girls. I enjoy listening to my favourite albums on vinyl while sipping whiskey and spend my downtime playing video games, taking photos, or jamming on cover songs.
How it Started
I started blogging in July 2004, but I've been building sites WordPress since the beta version was released in 2003. In the fall of 2005, I launched a redesign as part of the now-defunct CSS Reboot, which ended up getting featured in several of the (then prestigious) design galleries. Shortly after, I was accepted into the 9rules Network; a collection of hand-picked blogs from around the world, which helped to gain further recognition.
On December 14th, 2005, Microsoft announced that they had adopted Firefox's RSS feed icon. Back then, web standards still needed a good push, and I saw this as an opportunity to standardize how we linked to RSS feeds on websites. I skipped work one morning to re-create the icon in vector, told everyone that we should all jump on board now that the two biggest browser developers were sporting this unified icon, and the world seemed to agree that it was a good idea.
All this attention brought loads of traffic my way. Plenty of which translated into freelance work and relationships with people from all corners of the globe, with whom I've never even sat down and had a coffee with.
Quick Bits
Get to know me by skimming these bite-sized facts.
I spent the first 32 years of my life in the suburbs of Toronto but now reside in a small, oceanside town in BC.
I'm a proud father of two wonderful girls and am lucky to have an incredible woman by my side.
I've been working in the web industry since 2000 and freelancing from home since 2005.
I'm currently working full-time for Awesome Motive, where I've been filling the UI/UX Designer role for WPForms since mid-2018.
My first "real" job was at MuchMusic, where I worked on the web team, co-hosted a weekly show and was known as MuchMatt 2.0.
In 2020 I got into photography in a big way, which is something I've always been interested in. I primarily focus on landscape and aerial photography.
I've been an avid gamer since 1986. My first console was an original NES. Currently gaming on PS5.
I'm a musician. I grew up playing drums in punk bands, and am now playing guitar and singing.
In the 90s I owned hundreds of CDs. These days I have a growing collection of vinyl. Mostly punk, ska, reggae, and country/folk.
I look forward to my morning coffee and evening whiskey. I don't drink a lot, but do enjoy a good bourbon or scotch.
Professional Life
After completing my first year of multimedia design at Durham College, I felt that "higher education" wasn't going to get me where I felt I needed to be, so I began my first real job search. I ended up landing a job at 'The Nation's Music Station', MuchMusic. For 2 years I co-hosted a weekly internet pop culture show under the moniker MuchMatt 2.0. I was later bumped up in the ranks to a senior position and continued to work in the Queen St. window until July 2005.
Mid-July 2005, I moved on from MuchMusic and joined the Participatory Culture Foundation, where I spent approximately 8 months managing their many sites and working on the open-source internet television platform, Miro (formerly Democracy TV).
Since March 2006, I've worked as a freelance web designer/developer from the comfort of my home office. There was a year there when I stopped taking client work and joined a start-up design firm, assuming the role of Lead Web Developer. It didn't take long for me to realize just how good I had it while freelancing; working with people I felt some form of connection with, on projects I was genuinely interested in. I decided to move back to the world of freelance web design.
September 2016, I stopped taking on new freelance clients in exchange for long-term contract work with Makeup Geek, Mischief Media, and Takeover Studio.
August 2018, after a couple of years of ups and downs, I decided it was time for some stability. An old client reached out and connected me with his business partner, the CEO of Awesome Motive, who are responsible for some of the most popular WordPress plugins in the world. I was offered a design position, working specifically on WPForms and MonsterInsights, and I took it! I'm now the design lead for WPForms and we have a number of products under our umbrella.
Personal Life
Video Games
I've been pretty big into video games since I received a Nintendo Entertainment System for Christmas in 1986. I got out of gaming for most of the 90s, while I was busy riding skateboards and playing in bands. I picked the habit back up in the early 2000s, but the focus was on PC gaming. A couple of months after its release, I picked up an Xbox 360 and never looked back. Current gaming time is spent on PS5 and Nintendo Switch.
Music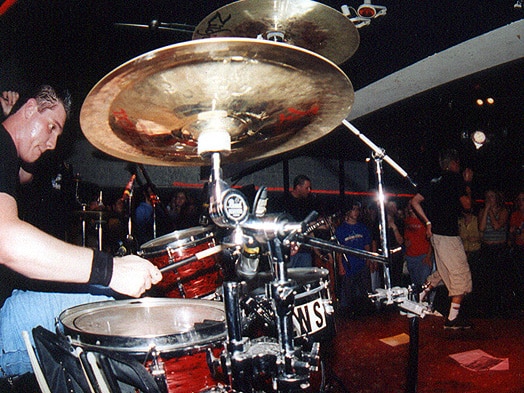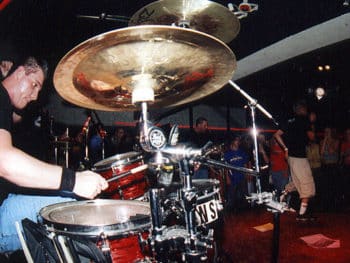 Over the years, I've played in a number of bands. Most notably, a ska-punk band called Lucky Number Seven from 1997-2002. I was, and still am super tight with the other guys in the band. LNS is responsible for some of my most fond memories and I met so many great people playing shows around the country.
Though I don't spend much time behind my drum kit anymore, music still plays a massive role in my life. Spotify is always running while I'm at my desk, which is 8-10 hours per day. These days, I enjoy playing cover songs on my acoustic guitar.