It's been nearly three years since I broke onto the scene with my previous design. And for many reasons, I was in no rush to replace it. But at the same time, I've been itching to redesign for quite some time. In fact, if you follow me on Twitter or Flickr, you've seen mention and proof of a redesign in progress for what seems like, ever. I'm proud and excited to be releasing my latest effort into the wild, at long last! If you're reading this in your feed reader, be sure to hit my domain to check it out.
What Took So Long?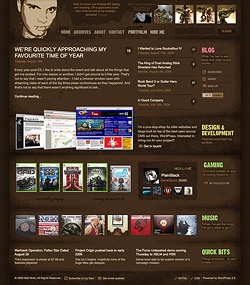 When I first decided that it was time to retire the old, trusty design, I was working on it in my spare time at a casual rate. Obviously, there's no hard deadline when I'm working on my own stuff, and since I was doing the bulk of the work in my spare time, progress was slow at best. Right when I started making good headway, Addison joined our world and my redesign took a backseat. From that point, my spare time has dwindled and I found myself preferring to sit on the couch with my feet up rather than return to my desk to work when I had some time to myself. But about a month ago, I lit a fire under my own ass and promised myself I would get it done by mid-September. Here we are, about 3 weeks shy of my self imposed deadline, and while the site isn't everything I had planned it to be, the bulk of the work is done.
Phases
If you were to take a look at my brainstorming notes, you would see a lot of things that didn't make it, in what I'm calling Phase 1. I came to the realization that if I were to pack everything that I had planned for my redesign into a single release, it would be months before it would be completed. So instead I've opted for phases. Phase 1 being the blog overhaul. Phase 2 will focus on the design section, which I have big plans for.
Tried and True
While I was mocking this new design, I focused first on the homepage. When it came time to mock the article layout, I hit a roadblock. I ended up with half a dozen wireframes, but nothing that really sat well, so I decided to stick with what works. As you'll notice, the article layout is pretty much the same as my previous design, with extra bits of content sprinkled through-out.
Take a Look Around
I was going to list all of the new additions and major revisions, but I'll leave them for you to find. So please, take a few minutes and click around. Be sure to drop a comment and let me know what you think.
---