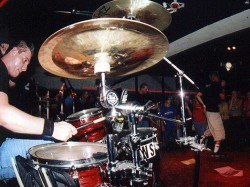 Lucky Number Seven was a huge part of my life, from 1997-2002. It wasn't just a band – we were the best of friends. I definitely miss those days. Wasted Times was the only studio album we released. It was recorded with Simon Head at Insight Recordings. Demo 2000 was recorded in our jam spot by good friend Onur Altinbalek.
LNS shared the stage with many greats bands over the years, including; Against All Authority, The Almighty Trigger Happy, Bane, Boys Night Out, Catch 22, Cauterize, Choke, Dillinger Four, Fucked Up, Jersey, The Kingpins, Mad Caddies, Moneen, Mustard Plug, The Planet Smashers, The Reason, Silverstein, and Sum 41.
---
Wasted Times
Released: November 1999
Download Album
MP3 192kbps 31.6MB
Available On...
Demo 2000
Released: May 2000
Download Album
MP3 192kbps 19.5MB
Live in Toronto
Recorded: January 4, 2002
Download Album
MP3 192kbps 26.4MB
3:07

Flashing By *

4:27

All Work No Play/Never Liked You

2:42

Hold On *

3:07

That's Right!

3:33

Goodbye Forever *

3:03

When I Was Young *

2:42

One Long Night *

2:19

Five Star

3:13

I Don't Know Why *
* Previously Unreleased