Skate instantly jumped from being a title I was merely keeping an eye on, to being at the top of my must buy list after the release of the demo. After getting a taste of the campaign at X'07, the deal was sealed and I knew I was going to sink a crazy amount of hours into Skate. Now that the game is out and I've had nearly a full week with it, I'm stoked to say that it definitely does live up to my expectations, but with nearly every aspect of the game comes a down-side that hampers the experience, or at least prevents it from as being fully enjoyable as it could be.
From Button Mashing to Stick-Flicking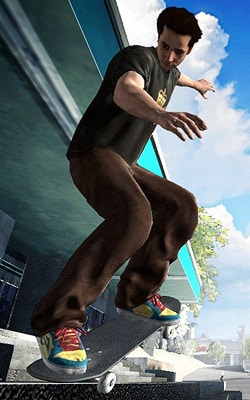 The single greatest aspect of Skate is the revolutionary control scheme which relies entirely on the analog sticks to perform tricks. Face buttons are only used to push, stop and enter events, while the triggers are used to grab the board with each arm. When I first learned of the controls for Skate, I frowned on it and never thought something so simple could work. Boy, was I ever wrong. Not only does it work, it gives a sense of accomplishment and satisfies much more than a button combination ever could. After a few hours, you'll have a good grasp on the controls and will be skating city blocks stringing tricks together as you hit different obstacles and building lines. It really does capture the essence of real skateboarding.
Making Your Mark
As others have done in the past, Skate takes you on a journey to greatness. Along the way, you meet up with pros who have challenges for you. There are "spots" through-out the city that you discover which range from a huge set with a kinked rail to a massive gap and everything in between. The idea here is that you out-do the previous high score on the given spots to "own" them. There are also film and photo challenges which have a certain criteria attached to them that will land you in magazines. There are an absolute ton of challenges to do and right when you think you're getting to the end of them, you reach a level that drops a dozen more on the map. Speaking of the map – you can quickly jump from event-to-event or any given area of the city as you please. So, it's easy to quickly take care of events if you're not big into exploring.
There's a bit of an uneven balance when it comes to the various events that will most likely leave you frustrated to the point of wanting to throw your controller through your TV. I'd be lying if I said I haven't gotten to that point a handful of times already. The problem is that events are so specific and often require you to do something that needs a great deal of focus and precision, as well as over-achieving a set score. So that task at hand is a difficult one, but to make matters worse, there are pedestrians, other skaters and cars everywhere. It's to the point where they're not only distracting, but they often prevent you from even being able to attempt your goal. And this is where the frustration lies. What might normally take a dozen attempts to pull off is suddenly increased two-fold due to all of these obstacles. And someone help you, should you knock over an old lady. It takes her a good 30 seconds to get back on her feet, then another 20 or so to get the fuck out of the way. Yes, I've cursed at plenty of old ladies while playing Skate.
Another annoyance that is along the same lines is having to do events with other skaters simultaneously. For example, you're taking part in a best trick comp with 3 other people who are all skating the same half-pipe for 60 seconds. Needless to say, you're colliding with other people more than you're landing tricks and it gets really annoying, really fast.
Skating With Friends is Always More Fun
If the single player mode has got you all worked up, take a breather and jump online. I was so excited when I learned about all of the online modes Skate has out of the box. But mostly for private Freeskate. Skateboarding is a very social activity (nope, I still won't call it a sport) and it's all about jumping from spot-to-spot and taking turns doing lines. You can fully do all of this in Freeskate and it's a hell of a lot of fun! Of course, there's lots of competitive modes as well which range from spot challenges ala the single player mode to a trick-for-trick battle of S.K.A.T.E. (aka P.O.S.E.R.).
Tapping into the Culture of Skateboarding
I can't even imagine how many hours I spent crammed into a packed living room watching skate videos with a group of friends before we headed out to our favourite spots. That's just what we did – watch a video, get all stoked, go out and skate for hours on end. Skate taps directly into that aspect of the skateboarding in more than one way. The entire game is supposed to be you being filmed by some dude who's tagging along for whatever reason. The camera angle is that of a dude crouching on a skateboard behind you and takes a bit of getting used to. But it also makes it feel that much more authentic.
At any given moment, you can pause the game and go to the Replay Editor – an in game video editor that lets you cut and edit clips which can be saved locally as video or photos, or uploaded to the Skate website. The Replay Editor can be used in single and multiplayer games and is really fun to play around with.
Close, Maybe Next Time?
When I saw that GameSpot gave Skate a 7.5, I was blown away! Having spent a good 20 hours with the demo, I thought for sure it was going to be a high 8 title. But after sinking a good amount of time into the single player game, I see why the lower score. As much as Skate is an achievement in the innovation department, it does fall short in many areas, especially the single player mode. I think it's definitely a step in the right direction and a fantastic first attempt at trying something completely different. I'm sure the sequels to follow will only get better with each release and I am most definitely looking forward to them. I doubt I'll even bother with the Tony Hawk games from this point on.
---