The moment I've been eagerly anticipating since June is finally here; I have a PlayStation 4 in my living room! Having spent just over a week with it, I'm happy to report that I'm enjoying it immensely, and am quite pleased with my decision to side with Sony at launch for this new generation of video game consoles. In this review, I'll cover many different aspects of the PlayStation 4, broken down into specific sections for easy reading.
Hardware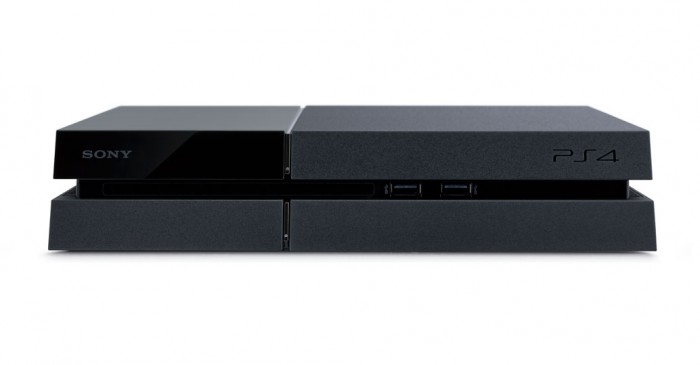 The PS4 is surprisingly small. For whatever reason, I expected it to be bigger than the PS3, but it's actually smaller than the slim model I currently own (second generation PS3). The slanted (or angular) design is super nice, and it looks very sharp sitting on my entertainment unit. It feels like a quality build and is very sturdy. There are no visible buttons on the front, but it does contain power and eject buttons which are the vertical lines between the two distinct panels. On the top of the console, between the shiny and matte panels, there's a line of light which changes colour depending on the state the console is in. When it's powering up, it's blue. When it's on and being used, it's white. And while in standby mode, it remains lit, and a faint orange colour. The disc drive is on the front, along with two USB ports.
Overall, the console's physical design is very sleek and it looks/feels high quality. It runs super quiet, even when installing games off a disc.
Controller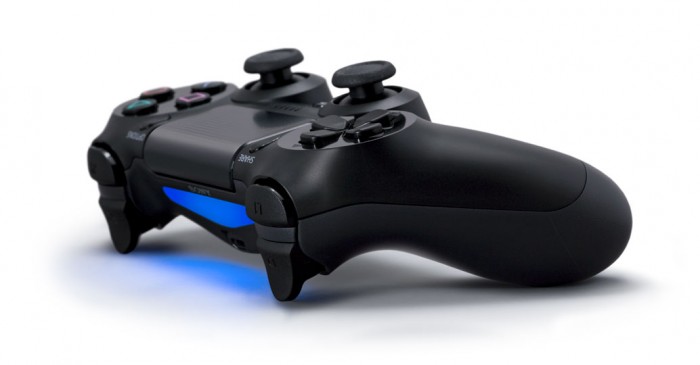 The most important console accessory, and the one that Sony completely failed with last generation; the controller. Thankfully, this time around they took some chances, and have produced what very well might be the best controller I've ever used. At this point, I have absolutely no beefs. It feels great in your hands; perfect weight, nice textures. The triggers are more like actual triggers now, with a concave shape that nicely cradle your fingers. The analog sticks are perhaps the best improvement, though. Spaced further apart to avoid thumb collisions, the surface is smaller, with a deep grove creating a nice ring around the edge. They have an almost sticky texture to them, which means your thumbs are less likely to slip off. The face buttons (X, Square, Triangle, Circle) are virtually unchanged, although they're no longer pressure sensitive and feel snappier.
New additions to the controller are the share button, touchpad, and speaker. The share button is one of my favourite features of the PS4, and I'll touch on this more later. It has replaced the Select button on the controller, and Options is now in place of the traditional Start button. There's a large touchpad right in the centre of the controller, which also acts as a button. I haven't seen many uses for it just yet, other than navigating map screens and acting as an additional d-pad, but I'm sure we'll see developers toying with this down the road. Lastly, there's a small speaker built into the controller. I've only noticed it being used in Killzone: Shadow Fall and Resogun so far. In Killzone, audio logs play through the controller speaker, while in Resogun, announcements are made via the controller.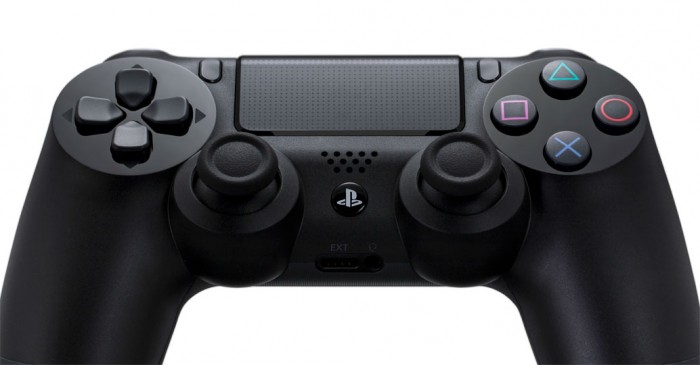 While it isn't advertised at all, the DualShock 4 still has the SIXAXIS accelerometer/gyroscope, so you can tilt the controller in any direction for use in games and the OS. I haven't seen this used in any games yet, which is kind of surprising, but the one thing I have seen it used for is totally rad. And that's the gyro keyboard. When you the keypad comes up on screen to type a message, you can click the right stick and it will change to gyro mode. This allows you to tilt the controller to make your way around the keyboard much quicker than you would using the d-pad. Message input has auto-complete, which is actually very well done, so text input using the controller is far less painful than it's been in the past.
I actually do have one complaint with the DualShock 4, and that's the battery life. It's hard to say for sure, as I don't typically play for extended periods, but I believe it only lasts 5-6 hours on a single charge. It's simply a matter of plugging it into one of the PS4's USB ports to charge it back up, which can also be done while you're playing, but it's still kind of annoying having to get up during session to charge it. I have two controllers, so I typically have one plugged in, and the other ready to go.
Operating System
At first glance, you might think to yourself, "Yes! Cross Media Bar is a thing of the past!" And you'd be right, more or less. The PS4 OS still uses a horizontal icon navigation for the main sections, but it's much more complex than PS3's XMB.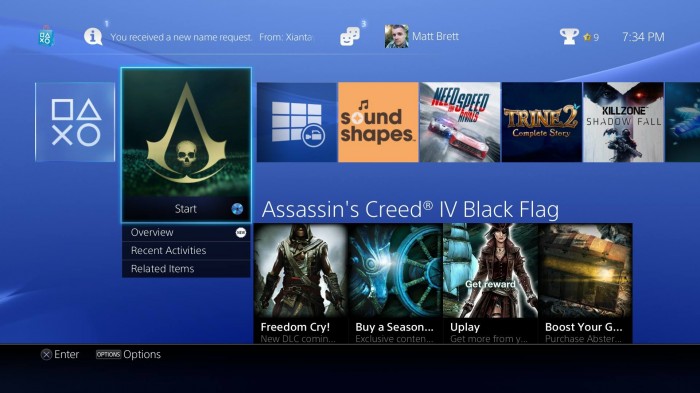 One thing I was kind of dreading, was the mandatory full installation for games. But I'm completely blown away by how well PS4 handles this. No longer do you have to sit there and wait upwards of 15-20 minutes for a game to install. In most cases, we're talking a matter of seconds before you're able to jump in and start playing, and this is due to the way PS4 installs games. Instead of making you wait for the entire game to be copied to the hard drive, it installs the essentials first, which allows you to jump in almost immediately. The remainder of the game is installed in the background while you're playing. To take this a step further, PS4 will check to see if a game has been installed once you pop the disc in, and will automatically start installing it if not.
Similarly, when a digital game has been purchased, it will download the essential components first, along with the first couple chapters of the game, then allow you to play while the rest continues to download in the background. In some cases, like with Killzone: Shadow Fall, you even have the opportunity to specify if you'd like the single player or multiplayer component downloaded first.
Another thing the PS4 does really well, is relating different bits of content. When you view a game's details, you can see the DLC available for it, an activity feed that includes all of your friends' activity, trophies, and more. You don't need to hop onto the PlayStation store to see what's new, it's all right there at a glance, and in more detail with a single click.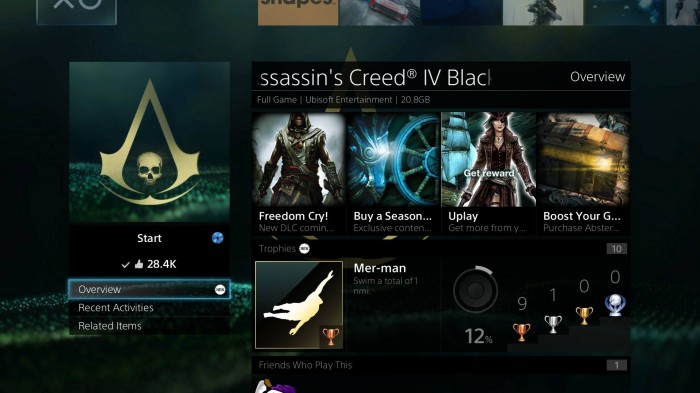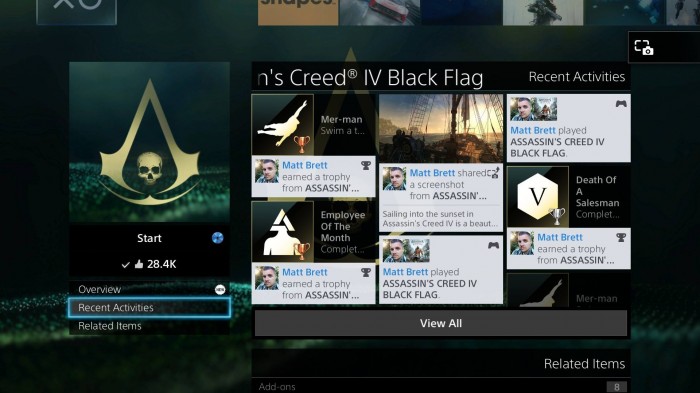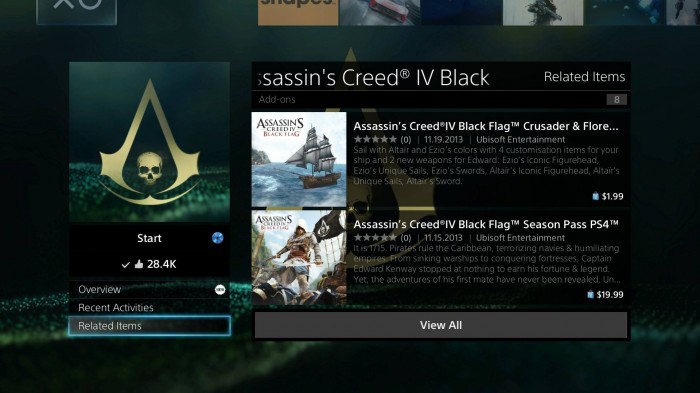 Taking this a step further, in all of the social aspects, you have the ability to launch or buy the game you're viewing content which is related to. For example, if I'm viewing a Twitch stream of someone playing Battlefield 4, if I have BF4 there's a button that will say Start This Game. If I don't have BF4, it will say Buy This Game. Same goes for viewing screenshots of videos shared by friends.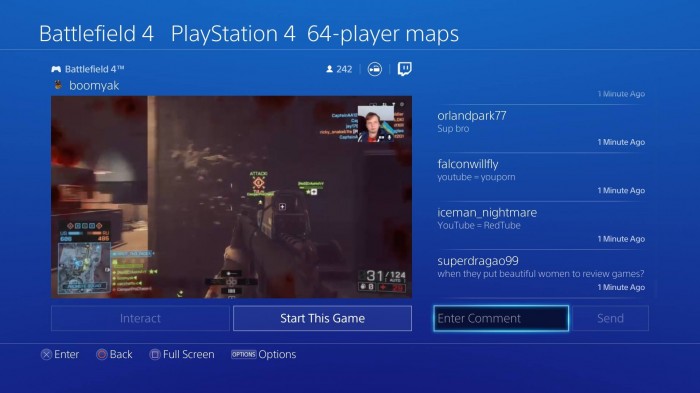 PS4's operation system does a great job of keeping things close by for quick access. With a tap of the PS button, you can switch from the activity you're doing, whether that be playing a game, using an app, or watching a movie, to the full PlayStation OS. Double tapping the PS button will instantly switch to the last activity you were doing. A good use for this, would be if you need to look up a walkthrough on YouTube. Normally I would do this on my phone or tablet, and have it sitting on the couch beside me. But now I can have a video playing in YouTube via the built-in web browser, and quickly switch back to my game with a double-tap of the PS button.
Social
PS4 is built for this social era in which we live. The first thing you'll see when the console boots up, is a What's New feed similar to Facebook's homepage. Showing what your friends have been up to lately, whether that's simply playing games, rating games, earning trophies, broadcasting live via Twitch or Ustream, sharing screenshots and video, making new friends, etc. Each activity can be viewed in full, and you can like it to show your appreciation.
Players now have proper profiles, with their trophies, recent activity, personal info, and friends. All of which can be controlled via privacy settings similar to what social networks do. There's an option to share your real name and corresponding photo with actual friends, so you can be more personal with those that you know, while leaving online acquaintances with your PlayStation persona.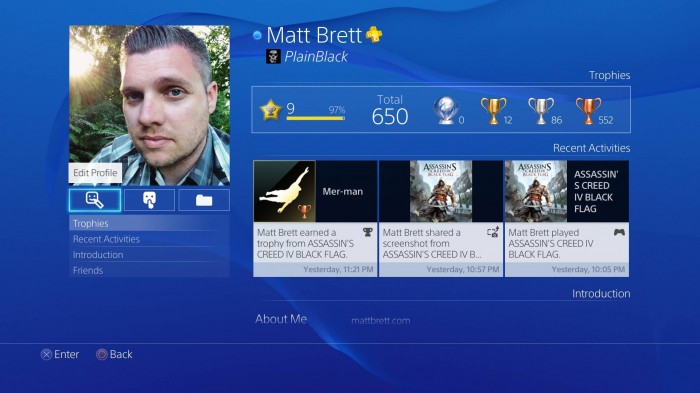 A proper messaging system is now in place, which again mimics what you'd see on Facebook, Twitter, or your favourite messaging app. You can share screenshots and videos directly with friends here, as opposed to sharing to all.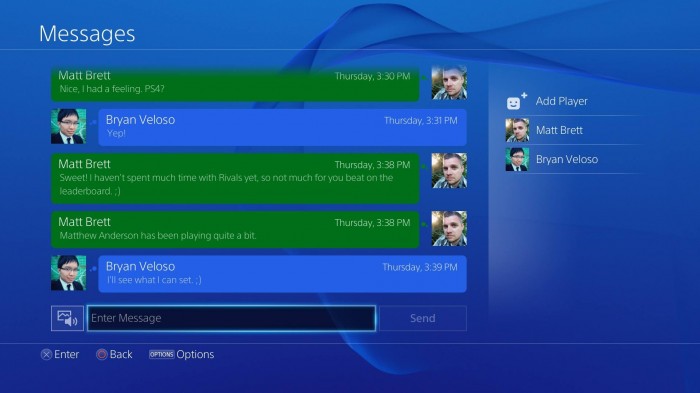 Party chat has made its way to PlayStation, and I know a lot of people are excited about this. You can now chat with your friends outside of games, and each be playing completely different games, or none at all.
Sharing
Easily one of my favourite features of the PS4, is the Share Button. I have it configured to take a screenshot with a single click, and pull up the Share screen when I hold it. Once the button has been held, a screenshot is taken, and a video clip of the last 15 minutes of gameplay recorded. Gameplay videos can be edited before they're shared, so you can trim them down to just the awesome moment you want to brag to your friends about. Unfortunately, videos are saved at 720p and are pretty heavily compressed. So you're not going to see any glorious 1080p videos, unless people are using their own capture devices. I've been uploading clips to YouTube, so feel free to check those out.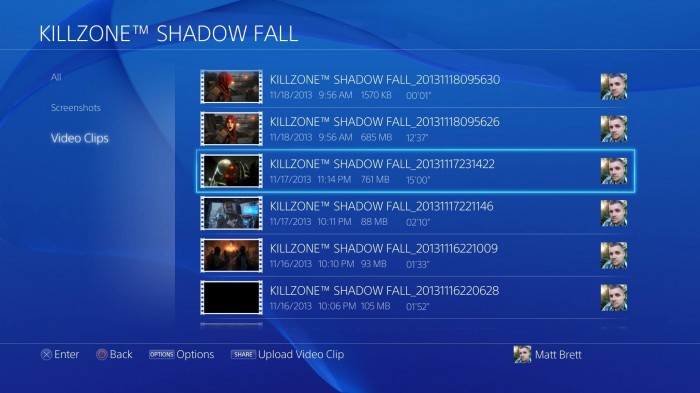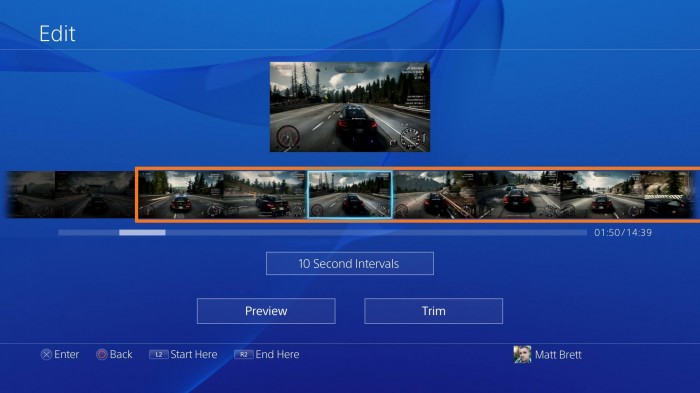 PS4 has built-in sharing functionality to Facebook and Twitter, via the Share Button. Videos and screenshots can be sent to Facebook, while only screenshots can be shared on Twitter. I'm hoping that down the road, more services will be added, like YouTube for videos. When anything is shared to these services, they also appear in the What's New section for your PS4 friends to see.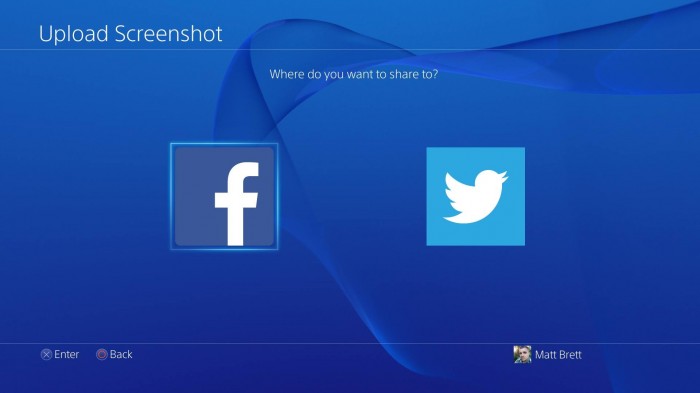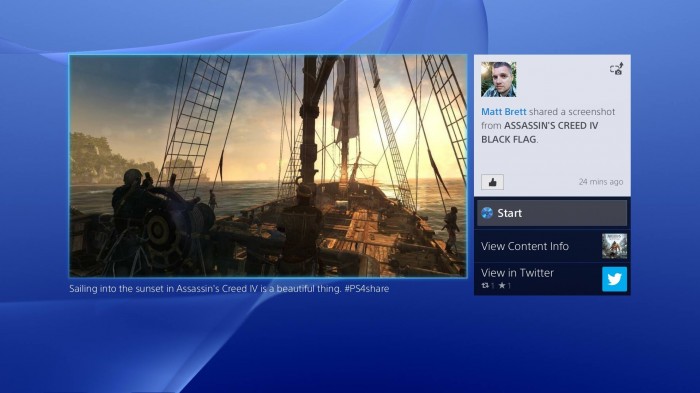 The main reason I'm excited about the share functionality, is that I can use this content in my game reviews. I used to take my own screenshots and capture videos years ago, and I had a lot of fun doing that. But it became quite difficult to do when game consoles moved to HD and I jumped ship from PC to Mac. Now I'm able to capture screenshots and videos with the click of a button. I just wish there was a way I could easily move images and videos from the PS4 to my Mac. For now, I'm sharing to Facebook with privacy set to "Only Me", then downloading and saving locally.
PlayStation Store
The PlayStation Store saw a huge overhaul a few months ago, and that interface has been carried over to the PS4. Actually, it's probably the opposite. The new store was likely designed for the PS4, and rolled out to the PS3 when it was completed. This is a smart move, since the store is now exactly the same on PS3 and PS4. It's big and clunky, but it runs super smooth on the PS4 and shows off the artwork nicely.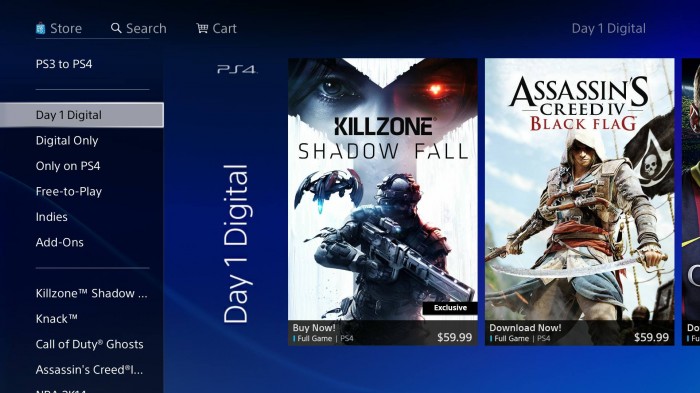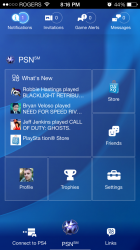 Sony released a PlayStation app for Android and iOS the week before the PS4's North American debut, and it's a great companion for the PS4. While I was at my daughter's skating lesson this morning, I downloaded Sound Shapes from the app, and it was downloaded, installed, and ready to play by the time I got home. The app has loads of other great features, like allowing you to message friends, view What's New, and even use your phone or tablet as a second screen. Before I discovered the gyro keyboard, I was using my phone to type messages on the PS4, which was super handy. I've seen this functionality with Apple's Remote app, and I use it for typing on the Apple TV.
Launch Games
I know a lot of people are arguing that there really isn't much to play on either of the next-gen consoles at launch, but I have more than enough to keep my busy for at least a few months. On day one, I picked up Killzone: Shadow Fall, Assassin's Creed IV: Black Flag, Battlefield 4, and Need for Speed: Rivals. I downloaded the two PlayStation+ freebies (Resogun and Contrast) as well, and have also installed Flower and Sound Shapes, which I had previously purchased no the PS3, and was allowed to download for free on the PS4 thanks to Sony's awesome Cross Buy feature. Leading up to the PS4's release, I held off on playing any new releases so I'd have lots to play on the PS4. I'm the type of person who cares about graphics, physics, etc. So even if the difference isn't huge from last-gen to next-gen, I'd still rather hold out and get that little bit of extra awesomeness. And so far, I've been totally happy with all of the games I've played. Reviews are forthcoming.
Closing Thoughts
Next-gen is here! And from what I've seen and experienced in the first week alone, we're in for a treat! Launch games are generally met with mixed reviews, and unfortunately this generation is no exception. That's not to say there isn't plenty to play right now, as I mentioned previously, there certainly is. I honestly couldn't be happier with my PS4, and I look forward to seeing it grow over the next few years. But most of all, I can't wait to see developers push it to its limits and deliver some truly incredible experiences.
---