The Need for Speed franchise has shifted (see what I did there?) directions once again, and this time, has found a bit more traction than it did a couple years ago with ProStreet. Recent games in the series have been about, well, speed. Driving with the accelerator maxed while slamming into opponents as you blast passed them with a nitrous boost. NFS: Shift attempts to steer (again with the puns!) the franchise toward the sim racing genre, and as much fun as it is, it doesn't quite make it all the way.
Great First Impression!
Right from the get-go, it's clear that NFS: Shift is a different type of racing game than you're used to from the NFS series. There are no cheesy live action cinematics. No obnoxious nu-metal music as the menu fades in. And no scantily clad women showing you their "o face." NFS: Shift comes at you with a lot of style, and some pretty intense cinematics that really get you excited to play to get in on the action. Thankfully, these types of scenes are carried through the career as you unlock new tiers and make your way up the ladder.
NFS: Shift looks and sounds amazing! The car models are gorgeous, both inside and out. But I did find the cockpit view to feel a little too confined. The viewpoint is set too far back, and your perspective actually changes the faster you go. I ended up using the hood cam for the most part. There is actually some damage modeling this time around, which is nice. But it's nowhere near as extensive as we've seen in other games like Forza 2, the Project Gotham Racing series, and GRID.
A Little Help?
When you start the career, you jump into a race and are evaluated on your performance. The game then recommends a difficulty level and you can make adjustments to the assists and AI difficulty. There are the typical assists like suspension and traction control, but some strange ones like steering and braking. With the latter enabled, it doesn't require much effort to play the game. And I can't imagine it being much fun that way, either. There's also a race line to assist you on corners and guide you throw the best path on the track. Like Forza Motorsport, it remains green if you're safe to keep accelerating, while changing to yellow and orange if you need to slow down a bit, and red if you really need to apply the brakes.
Single Player Career
The career is what you would expect. You're a new driver who's trying to make a name for himself by climbing the leaderboard and eventually making it to the big event. There are a number of tiers to get through, which include several events ranging from straight up races, to "car battles" (aka, Touge as seen in GRID), to drifting, and time trials. I had the most fun doing races and time trials, while I couldn't quite get the hang of drifting, no matter how many attempts I made. The car battle events were mostly frustrating as well, since you are limited to selecting one of two cars. I felt that both drift and car battles were handled better, and a lot more fun in last year's GRID.
As you complete events you earn stars, and this is where things get weird. You are rewarded for precision driving, and driving aggressively… in the same event. Some events will even require you to perform either precision or aggressive maneuvers in order to earn all of the stars, which seems odd since you're likely to be one or the other. Personally, I try and avoid other cars and keep collisions to a minimum. While some stars require you to "tap out" at least one opponent – which means, knock them off the track without leaving the track yourself. On the precision side, you are rewarded with points (which lead to drive profile unlocks) for clean laps and perfect cornering. Corners aren't something I normally pay attention to, and found this to be a nice addition to the game play. While it's harder to focus on mastering corners in a race with other cars on the track, I enjoyed trying to nail them in the solo time trial events.
A Friendly and Forgiving Racer
NFS: Shift is built with accessibility in mind. Tiers can be unlocked without doing every single event, which means you can skip those you don't enjoy (a'hem, drift). And best of all, you gain back every cent you sunk into your ride when you decide to sell it. Yes, you read that right – your cars don't depreciate at all, and you even get all of the money back that you spent on upgrades. This makes trying new cars and blowing huge amounts of money on upgrades a no-brainer, and something I really hope other games start doing. At the same time, if you're low on cash and don't want to work for the high-end car of your dreams, you can drop some real world coin on it. Every car in the "lot" can be purchased using Microsoft Points individually, from the get-go. EA has been notorious for releasing car and upgrade packs post-release, and they've gone the extra mile this time.
Forget About Multiplayer
With a focus on collisions, there was no way I was taking the race online. Racing games are frustrating enough when you're playing with the general public. I can only imagine how awful it would be with rewards being given for spinning other drivers out. No thanks.
Recommend, with an Asterisk
NFS: Shift is the best game the series has seen in recent years. But it's not quite as good as other games in the genre. It does everything well, but there isn't a whole lot if doesn't exceptionally well. With other races like Forza 3 and Gran Turismo 5 on the horizon, it's hard to tell you to go out and buy this game, as both will likely surpass NFS: Shift. That said, I really enjoyed the time I spent playing this game and would recommend it as a solid rental.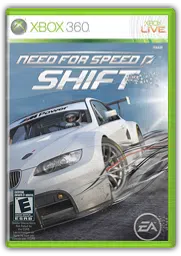 ---