If it weren't for the Xbox 360's flawed hardware, I likely wouldn't even own a PlayStation 3. I initially picked one up back in August of '07 when both of my Xbox 360s died within a week of each other. Since then, I've only played a handful of games and used my PS3 mostly as a media hub. But when my Xbox 360 Elite (which is now the only 360 console in the house) bit the dust a few days ago, I decided I was going to make the best of my time without it, and spend some quality time with my PS3. With some great exclusives on the horizon, fresh content via DLC for some of my favourites, and tons of new features for the console itself via firmware update, I've been pleasantly surprised by how well the PS3 has matured.
Game of the Year
Having only logged a dozen or so hours with the LittleBigPlanet beta, I'm fully ready to call it 2008's Game of the Year. It's truly unfortunate that PS3 nay-sayers and those that think it's nothing but a cute game are going to miss out. Everything about LittleBigPlanet shines. And with it having such a strong community focus, there is always going to be fresh content at the ready. I see a permanent spot for LBP on my media rack.
In preparation for the awesome things I'm going to create, I picked up the PlayStation Eye camera. With the camera, you can take pictures of yourself, objects, genitalia, and what-have-you. Then make stickers out of them for use in the game. Stickers are used to colour surfaces and add decorative flare. I'm fully creating an Addison monster!
Of course, there are other uses for the camera similar to what the Xbox 360 is capable of – video chat, motion sensing games, etc. But there's also a free app for creating and editing clips right on the PS3. I know Hannah will have some fun with that – she's always creating videos with her friends on my iMac.
Back to Warhawk

The only PS3 game that's remained in my collection from its initial purchase is Warhawk. It's always fun to jump in for a few quick games. It's not one of those games that you have to keep at to be good at. It's very accessible, and always fun. I realized this during a memorable battle where I found myself cornered by 2 enemy Warhawks. Manned with a jetpack and a rocket launcher, I used my afterburner to launch straight up in the air, high above the Warhawks. As I started to fall, I slowed my decent by hovering just long enough to lock-on and fire off rockets at each of the enemy aircraft. By the time returned to the ground, there was nothing but flaming debris falling form the sky. EPIC!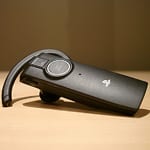 SOCOM: Confrontation came out a week ago today, but has been plagued by server stability issues, which is not good for an online game. I picked it up anyway, primarily for the Bluetooth headset. You can't go wrong paying $60 for a sleek piece of hardware and a game. Microsoft's standalone wireless headset retails for $10 more and pales in comparison on both the aesthetic and quality fronts.
Quenching My Thirst for Achievements
They're more than a little late to the party, but Trophies are now a part of most new PS3 titles. Some older games have also been patched to include Trophies. I'm currently working my way through Uncharted again and having a lot of fun claiming my prizes. While playing Warhawk a couple nights ago, I was stoked to see the little Trophy notification (for Vengeance – Kill an enemy within 60 seconds of that enemy killing you) pop up just as I took down an enemy aircraft. It's a shame that haven't been able to do retroactive Trophies. Having to replay games and unlock Trophies you've technically already earned is a bit of a drag. But then again, I might not be replaying Uncharted if that wasn't the case.
In short, Sony has done a great job of maturing the PlayStation 3 and bringing it up to speed with Microsoft's cancerous console. If it weren't for Xbox 360 exclusive franchises like Gears of War and Halo, I could probably live without my Xbox 360.
---