Well, not exactly. But it makes for a good title, doesn't it? I am however, on a bit of a theme development binge this month and next. If you follow me on Twitter, you'll know that last week I released the first of many themes on ThemeForest (affiliate link) – a marketplace for themes and templates spanning many platforms.
Why ThemeForest?
Because they're paying me. I was approached by the owner of the Envato network a few months back who offered to commission me to develop 5 themes for WordPress that would be released on ThemeForest. With no restrictions placed on our agreement and with the prospect of still retaining revenue generated from my theme sales, it would have been silly to pass this up. The bottom line is that I get to roll out a handful of themes at very reasonable prices – something I've wanted to do for as long as I can remember. It always comes down to time, and my lack thereof. This is the perfect arrangement that allows me to get the passive income training rolling.
Black Aperture
My first theme caters to one of my favourite hobbies, video games. Black Aperture is a news and reviews theme that comes packed with a nifty options panel for basic customization out of the box, among other goodies. As you may have guessed, the name is a throwback to one of my all-time personal favourites, Half-Life 2. Black Mesa. Aperture Science. Get it? Good! Moving on…
Falling Back on Trends
Normally, I like to consider myself a "think outside of the box" kind of guy. But when it comes to creating something that needs to appeal to the masses, I bench my personal preferences and gut intuitions and start tapping into current trends.
For starters, gaming sites seem to inherit a dark colour scheme. I'm not talking just publications, but official game sites as well. I knew dark was the way to go with this and literally started with a black canvas. With this being my first theme release for ThemeForest , I knew it was going to take longer than the rest, so multiple colour schemes were out of the question. Instead, I opted for a neutral layout with a customizable accent colour. This would give the user a bit of freedom without having to tap into the CSS themselves. But of course, if someone would like to jump in and start making drastic changes, there's no stopping them. And I welcome it, actually.
Gorgeous Featured Posts Showcase
I don't know about you, but I'm pretty tired of the typical featured posts slideshow that every other website is sporting these days. I wanted to allow people to feature content, but needed to take a new approach to this popular method of displaying features. There is no slideshow – just three big square(ish) images with some nice effects overlayed and a title and tagline, also overlayed. Images are resized dynamically, so the author just has to meet the minimum size requirements.
Super Simple Reviews
Posting reviews with a set criteria isn't the easiest task. I never bothered with criteria on my blog, but I do use custom fields to display the box art and 5-start rating. Similarly, I've done this for Black Aperture, but implemented a much more elegant solution than simply using custom fields.
When posting a review, you enter your title and main content just as you normally would. But under the main text area, there's a new box called Additional Information which houses the review criteria, and images used through-out the site.

On the front-end, reviews are displayed unique from other posts in a few ways. For starters, when reading a review, you'll notice a nice big area at the top which houses the box art, rating, and criteria.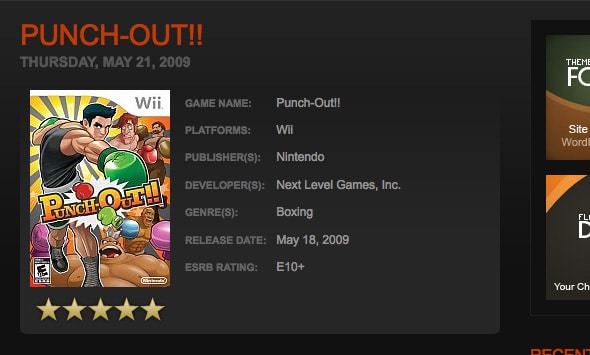 Reviews are styled differently in post indexes as well. The thumbnail image is replaced by a smaller version of the box art and rating, and both are aligned to the left inside a grey box. Unlike the thumbnail which is floating right with a dropshadow.
If This, Else That
When it comes to general theme releases, there are a lot more things to take into consideration. I really have no idea how people are going to use my themes, and which parts they have no interest in. With Black Aperture, I included things like the social buttons in the header which may or may not be of use. Every unique bit like these buttons are wrapped in a conditional statement which tells the theme to only display them if there's content entered. Same goes for image thumbnails in posts, even. If there's no path entered for the post image, the thumbnail container doesn't show up at all. I feel that this is a very important step to ensure my themes are easily implemented. The last thing I want, is for someone who has just purchased a theme to become frustrated while trying to remove an unneeded feature.
Much of Black Aperture is controlled from a settings panel within WP-Admin. From there, you can change the accent colour, remove the left sidebar entirely, construct the main navigation bar, and even manage ads.
Other Uses
I know many of my readers have their own blogs already and will have no use for Black Aperture as a theme. But perhaps as a learning tool? When you purchase Black Aperture, you have my source files for the entire project, including the original PSD . So if you're wondering how I did something, or would like to use some of the code for your own work, it might be worth the $25.
Next Up
I've already begun working on my second theme. This one entitled Spectre, which is a reference to the fantastic sci-fi RPG game, Mass Effect. The original colour scheme I worked on reminded me of the armor your character wears at the beginning of the game. Spectre has an entirely different focus, and is aimed at the web professional. It's a portfolio/showcase theme that will be based on the innards of Black Aperture, but you wouldn't know that from looking at it. Expect Spectre to hit ThemeForest later this week, or early next. You can always follow me on Twitter if you don't want to miss it.
---