In a move that will no doubt piss off Xbox 360 gamers world-wide, Official Xbox Magazine has a playable demo of F.E.A.R. bundled with it's October issue. Since magazines for whatever reason, publish their issues a couple months in advance – you can get your hands on it now! The only downer (aside from the fact that you can't just download it from the Marketplace) is the price of the magazine – which cost me nearly $15 CDN. But, it's F.E.A.R. and I just couldn't let it pass me by. After all, the PC version of F.E.A.R. is still my highest rated game to date.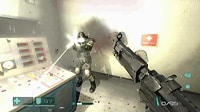 Gameplay Video (12:03)
I've heard lots of good things about the 360 version. Not only is it not scaled back from the PC predecessor – it brings higher resolution textures to the table. I'm not going to go into great detail here. Instead, I'll wait for the full game to really dissect the game. In the mean time, you can watch the entire Xbox 360 demo and see if you can notice any subtle differences. One thing that definitely stood out to me were the background noises. Clicks and clanks seem louder than the PC version. I noticed this immediately when the dude starts typing on his laptop before you leave the car.
Aiming is a little tough at first seeing how it's so precise in F.E.A.R. – you can see every bullet's path and impact thanks to the bullet time mode, but it does make things pretty challenging with the controller. You'll notice my lousy aim in the video, no doubt.
And speaking of (the video), I've up'd the resolution to 640×360. This is a pretty noticeable jump from the previous 500×281 size I've been sticking with for Xbox 360 videos, so please let me know what you think. Bigger is better, right? I've kept the video bitrate the same (700kbps) but downgraded the audio to 96kbps from 128kbps. If you have any problems with the size, how I'm presenting it or streaming, please drop a comment and let me know. I'm on a 5mbps connection and it starts fast and plays smooth, but I'd like to hear from others on this front.
---