I'm always interested in what other people are doing, and the tools they use to do them. Here's a breakdown of various aspects of my professional life.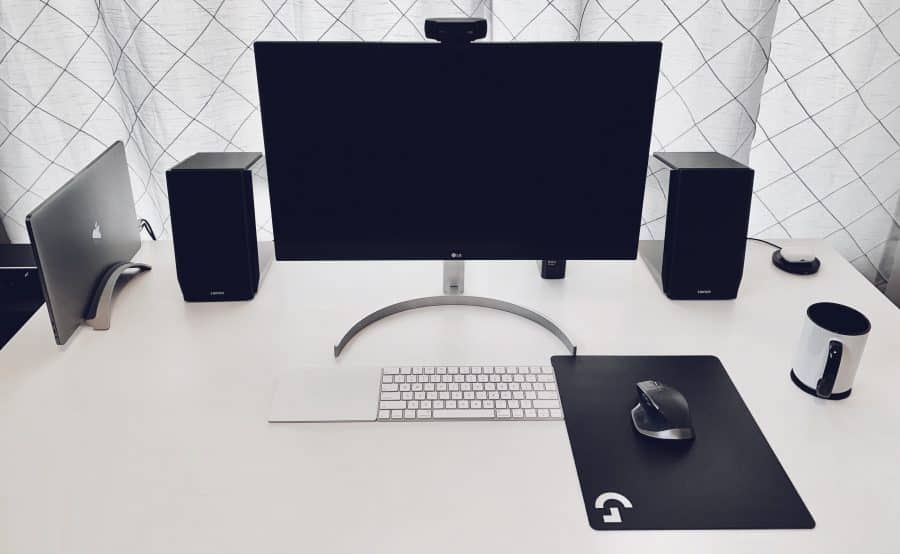 Home Office
I work at a 63″ SKARSTA Sit/Stand Desk from IKEA. When in the standing position, I use a Topo Comfort Anti-Fatigue Mat by Ergodriven.
I'm currently using a 2017 15″ MacBook Pro, 2.8GHz i7 with 16GB memory.
The MBP is docked on a Twelve South BookArc most of the time, and hooked up to a 27″ LG 27UK850-W 4K UHD display.
I tend to work at various spots around the house, and use a Rain Design mStand to bring the MBP up to a more comfortable viewing angle.
The odd time when I leave the house with my MBP, I carry it in an E-Tree 15.6″ Laptop Sleeve.
I prefer to use an Apple Magic Keyboard, since the keys are identical to that of the MBP. I have an Apple Magic Trackpad 2 to the left of the keyboard, and a Logitech MX Master 2S mouse to the right. I don't want to wear out the finish on my desk, so I use a Logitech G440 Hard Gaming Mouse Pad, which provides a very fast and smooth surface.
Since I work remote, video calls happen frequently. I use a Logitech C920S Pro HD Webcam for video, AirPods Pro for audio, and an Audio Technica AT2020 Cardioid Condenser Microphone mounted on a boom arm, going through a Behringer UMC404HD U-Phoria USB Interface for voice.
A pair of Edifier R1850DB Active Studio Monitors provide the sweet sounds while I work.
For external storage, I have a 4TB WesterDigital My Book for Mac tucked in behind my display.
A Belkin 10W Wireless Charging Pad sits on my desk to easily charge my iPhone 12 Pro and AirPods Pro.
Everything is connected to my MBP through an OWC 14-Port Thunderbolt 3 Dock, which only requires a single Thunderbolt cable.
---
Software
From day one, I've been using Photoshop as my primary design tool. That changed however in 2019, when I decided to give some of the more modern tools a try. I eventually settled on Figma, which has worked extremely well as a design, prototyping, and developer hand-off tool at my day job. I still use Photoshop for graphics and Illustrator for vector art and illustrations.
On the dev side, I've been using the following setup for quite a few years now. My local server is run by MAMP Pro, which also handles local domains. CodeKit compiles everything and helps with debugging. Visual Studio Code is my main code editor. I use GitHub for version control and issue tracking. xScope is super handy for inspecting and measuring. ColorSlurp allows me to grab colours of anything on screen, and makes sure my colour combinations are accessible.
I use Dropbox to keep my working files accessible and backed up at all times, while Backblaze keeps an offsite backup of my entire hard drive. I also use Time Machine for local backups.
For day-to-day productivity, I use Notes and Reminders.
Chronicle Pro keeps me from missing bill payments.
I don't know any of my passwords off-hand, thanks to 1Password.
Whenever I need to explain how to do something technical to a client, I create a quick screencast with ScreenFlow.
Since Rdio went away, I've had a subscription to Spotify and been quite happy with it. I've discovered a ton of artists and bands I wouldn't have otherwise been exposed to, thanks to its awesome curated playlists.
---
Website Specifics
---
Video Games
I picked up an Xbox Series X on launch day and have been enjoying the glory of playing games in native 4K at 60fps. I sold my PS4 Pro and am planning to pick up a PS5 down the road when more exclusives have been released. The Nintendo Switch is very much our family-fun console, where we regularly play Mario Kart.
For several years, I haven't spent any time gaming on my MBP or iPhone. I lost interest in mobile games when things shifted to the freemium model. I briefly gave Apple Arcade a try, but found that I would rather spend what little time I have for gaming with a controller in hand, in front of my 55″ TV.
---
Music
I own two acoustic guitars, both are Yamahas. I recently bought an LL16M (natural finish) from a friend, which has quickly become my main workhorse. Previously, I had been playing my AC3M (tobacco brown sunburst) almost daily for a couple years.
At one point, I was playing bass in a band and acquired an Epiphone Thunderbird IV Electric Bass (vintage sunburst).
Before I picked up the guitar, I was playing percussion in a local band. At the core of my percussion setup was a Gon Bops Alex Acuna Special Edition Cajon.
I still have my old drum kit, which is a vintage German-made 1968 Sonor kit handed down from my father. I played Zildjian cymbals, with a mixture of A Custom and Z Custom.