I have been lucky enough to receive invites to a few of Microsoft's annual press gatherings over the years, but this was my first time hitting up a Sony event. To say I was excited would be an understatement. After all, if you exclude all of the multi-platform games coming out this quarter and next, there aren't a whole lot of exclusives. But of the exclusives there are, PS3 has a number of heavy hitters lined up that will make PS3 owners happy, and make Xbox 360 gamers seriously consider picking up a PS3 Slim.

The way these events work is a little different than what you might expect. Many of the games that are present are being demo'd by someone on the dev team, or a PR person. In this case, you sit by and watch a live demo of the game being played with accompanying commentary from the representative. You're free to ask questions, or you can be completely passive and just watch. I actually prefer having a game demo'd for me, since I can find out any details I want to know about the game. This is particularly useful if you go in without extensive knowledge of some titles.
At this event, I went the entire day without touching a PS3 controller. The PSP version of LittleBigPlanet was the only game I actually got my hands on, and this was fully intentional. With many of the games on display being hotly anticipated by yours truly, or still pretty far off, I didn't want any spoilers. I love the feeling of picking up a new game and it being a totally fresh experience. Especially those that are story driven single player games. There's nothing worse than playing through the first part of the game and already knowing what's about to happen. I've been down that road a few times over the years, and it really put a damper on the experience overall. That said, I went, I observed, I talked to many people, and am now even more excited about the great games to come on Sony's platform.
The Big Guns
Assassin's Creed 2, God of War 3, Heavy Rain, Uncharted 2 – they were all there, and 3 out of 4 of them were playable. Assassin's Creed 2 being the only one that was demo'd. There isn't much to report on these games. They all look fantastic, as you would expect. I didn't bother even watching Uncharted 2, since it comes out next week. The God of War 3 level that was being played is the same one that was shown during Sony's press conference at E3 a few months back. And it was a little too loud to really get into Heavy Rain.
Also in attendance was Army of Two: The 40th Day, Lego Rock Band, The Sabateur, Avatar, Alien vs Predator, Dead to Rights: Retribution, Where the Wild Things Are, Tony Hawk Ride, and some other uber Japanese games that I passed by rather quickly. Now, onto some games that really stood out…
MAG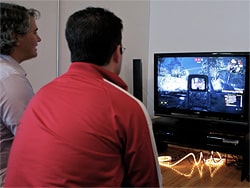 For those that aren't familiar with MAG – it stands for Massive Action Game, and it's exactly that. It's a modern first person shooter that is entirely online. The "Massive" part pertains to the amount of players the game supports – two hundred and fifty six, in a single game. That's 128 players per team, broken down into 4 platoons, which is made up 4 squads containing 8 players each. Phew! Can you wrap your head around that?
Each group type (squad and platoon) has a leader who can issue commands to their squads. XP is handed out to those that follow orders well, and likewise to those that do a good job leading. As you would expect from a game like this, there's a huge focus on ranking up – levelling up your character to unlock weapons and abilities. The perks system is very deep and lets you take your character in any direction you'd like, or keep a more broad approach if you prefer to have a multitude of weapons at your disposal. There are no character classes. You build your character out however you'd like.
ModNation Racers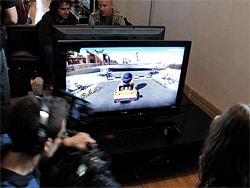 I was quite pleased to see ModNation Racers in attendance, as it looks to evolve the kart racing genre in a big way. Think of it as the LittleBigPlanet of kart racers. It inherits Sony's "Play, Create, Share" motto and is customizable from back-to-front. From the get-go, you customize your character to your liking. Then move onto your kart. And finally, track creation is where it's really at. Creating a track can be done in a matter of minutes, and is not only easy, but a fun and entertaining task as well. There's all sorts of nice little animations that make placing objects and changing the landscape fun, even to watch.
With support for 12 players online, and local 2 player splitscreen gameplay, it's sure to be a good time.
DJ Hero
I briefly checked out DJ Hero at X'09, as it was constantly surrounded by people eager to get their hands on it. It seemed to be struggling with competition like Uncharted 2 and Assassin's Creed 2 merely feet away, so I was able to get a good look at the game.

When I walked up to the controller, the rep asked if I wanted to play. To which I replied, "No, I want to watch you play it." He laughed and started walking me through everything, from the controller to gameplay mechanics. I have to say, it really looks like a lot of fun! And not nearly as complicated as it first looks. Difficulty ranges from beginner to expert, with easy, medium, and hard in-between. The rep played on hard, which was pretty intense.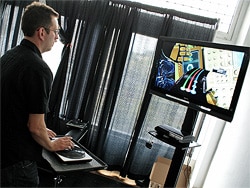 Each track in DJ Hero is a mash-up of 2 songs. I chose the Jurassic 5 vs Billy Squier track, he chose the Flavor Flav sound effects, then bumped up the volume on the TV and started tearing it up. He was totally showboating, but it was awesome! When you activate the multiplier bonus (like star power in the guitar based games) the bass bumps up and all sorts of flashy goodness fills the screen. One little game play mechanic I loved was the ability to rewind the song if you mess up. To do this, you literally spin the record back about half a turn for an instant re-do. Very cool.
In Closing
It was great seeing how Sony handles events like this, after having been to several of Microsoft's. It was definitely a different vibe. The X'0 events tend to be very flashy and impressive when you walk in the room. Lots of green lights and set pieces, where Sony's was merely rented office space with some 6 foot tall banners hung around the rooms with flat white walls. But it was a warm atmosphere with lots of natural light shining through, and was definitely more about the games attracting your attention than anything else.

---