For the past couple years I've been flying solo pretty much exclusively. It's only been recently that I've been collaborating with other designers and developers during my freelance journeys and time at Graphics.net. Now that my work is changing hands, I find myself spending a few extra minutes tidying things up before I pass them on. As I discovered pretty quickly, some of the traits that have become second nature to me, aren't so obvious to others. This is the first in a series of "best practices" articles to follow that will cover some of these areas.
Disorganized layers leaves people (and yourself, for that matter) digging in frustration to find what they're looking for which only slows down the entire process. By naming layers, using folders and colours, it's very easy to keep things in order.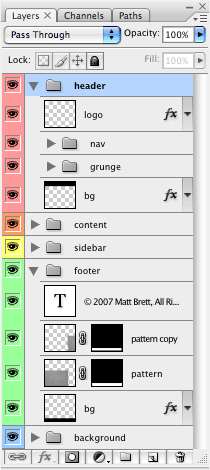 Name Your Layers
While it's not imperative that every single layer has a unique name. Anything significant and not rightly obvious should be named. It's easiest to keep on top of layer naming by immediately setting a name once you've finished with the layer you're working on.
Use Folders for Grouping
In the last couple of versions of Photoshop, we've been able to embed folders in the layers palette. This helps to take organization a step further than ever before. Now it's possible to group layers together in a folder and even group folders inside a parent folder.
A good example of a solid folder structure would be the header of a site. Make a top level folder called "header" and put sub-folders inside for "nav", "search", "newsletter", etc.
Colour Coding
Probably the least common method of organizing the layers palette is assigning colours to folders and individual layers. But used wisely, can be very effective. One could easily establish their own colour scheme that gets carried across each PSD they work on.
For example: Header elements are red. Main content is orange. Sidebar is yellow, etc.
I'm sure for some, this will seem all too obvious and hardly beneficial. To those people, I owe a high-five if we ever meet in the real world.
---