Shortly after I decided to spend my Friday night getting myself ahead on some of the projects I've got on the go, an email landed in my inbox that changed everything. I saw a Growl notification out of the corner of my eye that read, "Subject: Halo 3 Beta – advance code & assets" and I swear my heart sank as my eyes popped out of my skull. Early this evening I spent about half an hour watching some dudes at GameSpot play the multiplayer beta live. Then 2 of my friends appeared on Xbox Live also playing it. I quickly filled with jealousy and suddenly the awesome Crackdown DLC that I was rocking earlier and Command & Conquer 3 (which I rented 2 days ago and only go to tonight) were rendered obsolete. I still can't get over how this all panned out and I can't express in words how fucking excited I was when I received that email.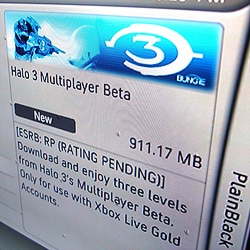 It didn't take long for the near 1gb download to finish. I quickly customized my Spartan and jumped into a game of Slayer. I finished dead last, which I fully expected having spent a very small percentage of my time gaming online over the past year. But I experienced some of the new hotness right off the bat. In fact, one of the first dudes I came up against used one of those orb shields as seen in the first TV spot trailer. After getting pwned pretty bad, I switched it up to team based games. I still sucked, but I had more fun in the process. The map was very familiar, but way more beautiful than anything we've seen to date from a Halo game. There was a giant waterfall on one end that looked fantastic and a stream that cuts through the middle that was also pretty nice to look at. As I was wandering around enjoying the scenery, I stumbled across my first Mongoose – a little ATV that is ridiculous fun! I booted around on that for quite a while, running down a couple dudes in the process. That thing is a good time! There was also a Warthog in the map that I later grenaded the shit out of while a dude was on the turret spawn camping. I could probably go on forever and I've only played like 4 matches.
The interface and the way the matchmaking works is pretty awesome. They've taken it all a step further, even more so than what Xbox Live is currently doing with Xbox 360 games. One thing that's really neat, though – is your File Share. Each person has their own little storage locker where you can save and share gameplay videos. After a match is done, you have the option to save it. I'm pretty sure you can save as many as you're HDD can store, but you can only share a limited amount (I believe it was 9). I saved a couple, but I won't be sharing them. 😉
This past week I had actually been getting back to some older games. I finished Act 1 of GRAW 2 on Hard and doing some exploring in Tomb Raider Legend. The Forza 2 demo has been getting a lot of attention as well. And I just started playing C&C 3 tonight. Unfortunately, I probably won't be getting back to some of them for a while now.
I'm going to look into the terms of the beta, but if possible, I'll get some video online. It should be a lot easier since I don't have to record while I'm playing.
Any other lucky bastards out there?
---