I knew while I was working on reproducing the feed icon that some folks would find it useful. I had no idea it would take off as it did! I'm extremely stoked that so many people have embraced it and accepted it as the new standard icon. Feels great knowing that I've created something that others can benefit from – all for the sake of a better internet.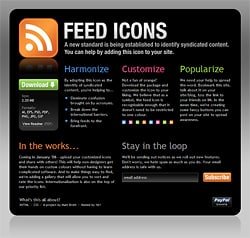 A ton of eyeballs have seen this site in the past 48 hours and that's rad as hell – but who wants to read some dude's long-winded article and have to scroll all the way to the bottom of it to download the icon package? Figured that this icon is important enough to give it a proper home. And thus, I present to you feedicons.com.
I've replaced the download link on my article with a link to feedicons.com where I'll continue to support this new standard of ours and encourage others to jump on the bandwagon. I have lots planned for this site and have recruited a couple of my developer friends to help me execute it – I'm utterly hopeless with any kind of scripting language, so I'll leave all that stuff to them. I'm not going to reveal everything now, but I will tell you that we're going to create a user submissions gallery. Anyone will be able to upload their own customized icons for others to use on their sites. Not everyone is a designer after all – this will give those who are not able to customize the icons themselves a chance to use a custom icon as well. Lots of other radness is in store, but you'll have to wait for that. Feel free to subscribe to the announcement list to stay in the loop.
The package on the new site has some new goodies. A couple new formats (EPS and PDF) as well as some pre-saved image formats (PNG, JPG and GIF) are included. An SVG version is on it's way. I've created one and sent it out to a couple people to test before it's included. There's also legacy versions of the AI and EPS formats that go back to Illustrator 10. If there are other formats you'd like to see, or sizes for that matter, feel free to suggest them.
I'd like to give a quick shout to those that have already adopted the icon and/or helped to promote it – I've seen you in my referrals and greatly appreciate the link love. Thank you! The future's looking bright for our little orange friend.
And now, I must sleep. Oh sweet slumber… how I've missed you!
---