I'm sure everyone's aware of the big MTV show that's being aired this Thursday that will debut the Xbox 360. Someone at MTV thought it was a good idea to pre-tape the show – a week prior to it's air date. With over 200 audience members attending, they thought they'd be able to do this without anyone leaking any information. MTV = S-M-R-T!
So here you have it. The first look at Xbox 360, 3 days before we were supposed to see it, courtesy of the fine folks at MTV.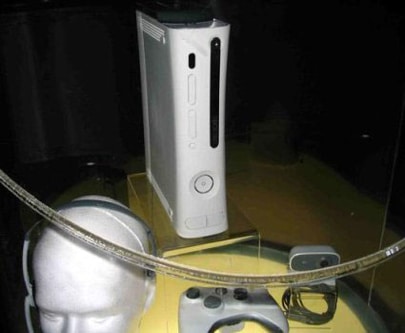 For more info. and additional photos, check out GameSpot.
I actually had the chance to see some high res images of the console, along with the controllers and even some screenshots from games that are in development this morning. A dude in my department got his hands on the entire press package along with specs and marketing material. I can't reveal any details, though. Sorry – you'll have to wait until Thursday for that. Let's just say, it's going to be fuckin' sweet! Totally getting one as soon as it's released!
---