Today was a very exciting day around the 'office'. As some of you may know, I work for Participatory Culture Foundation whose main focus these days is an internet television application code named DTV.
0.7 is the fourth beta release and it's been about two and a half months since the previous release. This was by far the biggest gap between betas, but for good reason. DTV 0.7 crushed a pile of bugs and introduces a whole whack of new features, functionality and an awesome new user interface. It's also sporting the newest chrome to grace OS X – as seen in iTunes 6. I'm very excited for 0.7 to be in the public's hands as I actually contributed a fair bit to it. I didn't get my Mac Mini until shortly after Beta 3 was released, so until that point, I had only seen screenshots of DTV and never actually used it, let alone work on it. It feels pretty good to see this being rolled out knowing what I put into it and having seen it's progression over the past couples months with each nightly build.
Unfortunately for the Windows users, no DTV for you just yet. The Windows version is coming together and I can assure you that it actually is making progress as I've spent a bit of time over the past week coding the user interface framework. It will still be a while before you have it running on your desktops, but the wait will be worth it.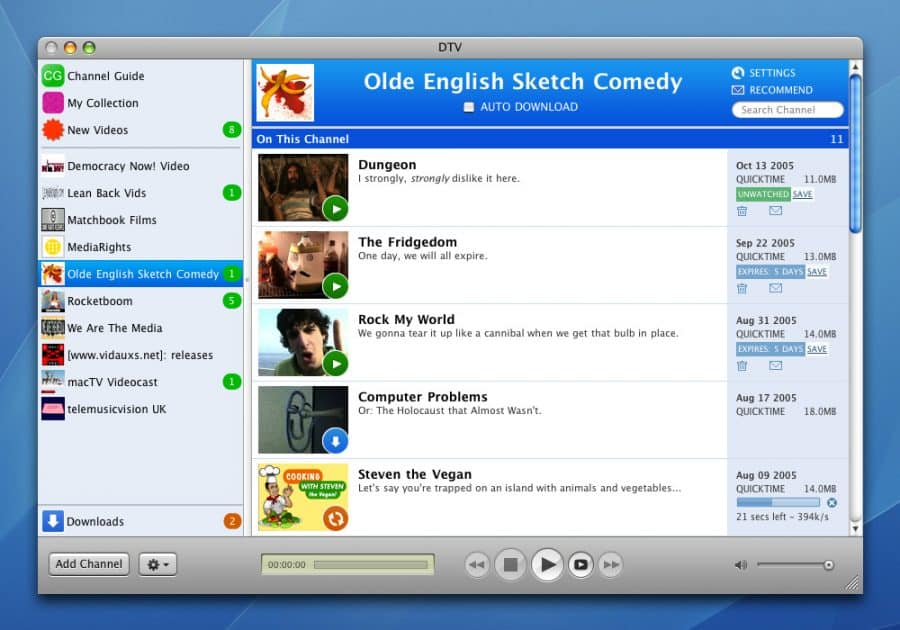 Along with the UI enhancements comes a fancy new icon. DTV's presentation has done a complete 360 since beta 3. Even the installer has been upgraded to sport the new logo – and I must say, that's one of the nicest looking installers I've seen on the Mac. For the Windows users – yes, that's right. To install it, you simply drag it to the applications folder. Seriously, that's it. Most apps on the Mac side are as simple to install as that. Uninstalling is the same procedure – drag it to the trash. I know it's hard to wrap your head around something being so simple, but it really is and it really works.
Anyway, I highly recommend you check out DTV if you're running OS X. While it is still in beta, it's definitely reached a good, stable point where it can be used on a daily basis.
---