In the middle of 2012, I moved my family across the country and now reside in British Columbia (Canada). As you can imagine, this was no small feat, and since my attention was firmly focused on the move, many things slipped through my radar. Dishonored, being one of them. Closer to its release date, I started hearing people talk about how excited they were for it. Now that I think about it, I don't recall many people raving about it once they were actually playing it, and having played it myself now, I understand why that was. While Dishonored brought some exciting new mechanics to the table, it fell short in many areas. When you factor in a very slow start, dumb or often unresponsive enemy AI, and a surprisingly short and obvious story, I couldn't help but feel disappointed more than anything else when the credits rolled.
If you like going into a game knowing absolutely nothing about it, you'll want to skip this paragraph. In the first 10 minutes of the game, you assume the role of The Empress' personal guard Corvo, who has just returned from a couple months abroad. The Empress is assassinated, her daughter and heir to the throne kidnapped, and Corvo is framed for the murder. Days before his execution, he's broken out of jail by a group of loyalists who set him on a path of redemption, with the ultimate goal of overthrowing the current regime and reinstating Emily, the true heir. The city of Dunwall has been overrun by a plague spread by rats, which basically turns people into zombies. Streets are littered with linen wrapped deceased, waiting to be hauled away.
One of the things that really turned me off, was the mix of old world, high-tech, and fantasy. If scientists can make a weapon that can instantly vaporize multiple people, why are they still wielding swords and single-shot pistols? Surely they could craft better, more efficient weapons. It just doesn't mesh, and makes the world of Dishonored a little harder to believe.
The city of Dunwall felt eerily familiar. It took me nearly the entire first play-through to put my finger one it, then A-HA! So much of the visual aesthetic, architecture, and even some of the characters reminded me of Half-Life 2.
The actual game play is where Dishonored truly shines. You've likely read elsewhere how there are many paths you can take to reach your goal, and this is true for the majority of the game. For example, in order to reach a point a few blocks down the street, you could do any of the following:
Stick to the shadows and silently assassinate the guards, one by one.

Head to the sewers and travel beneath the street. But watch out for swarms of rats and plague infected zombie-like humans.
Hop up to the rooftops and stay out of sight completely.
Possess a rat and sneak passed the guards.
This aspect of the game can be really neat, and the truly remarkable part is that any path you choose feels like the right one. If you're stuck on a spot, there's no sense in trying the same thing over-and-over. A simple tactic change will usually get you through it.
But all of this freedom isn't without a fault. I was hoping for true freedom, in that I could run through guns blazing if I felt like it. And some times, I did. Opening fire on a slew of enemies resulted in death, every single time. Generally, health potions are in short supply, and it only takes two or three blows from a sword to take you out. There is an enemy weapon that yields magic powers useless, which makes combat scenarios even more difficult. I learned quickly that you basically want to avoid combat whenever possible, and it's usually easier to flee a situation than to stand your ground and fight.
Speaking of magic powers; I had a lot of fun with these! Right off the bat, you're given the "blink" ability. Which allows you to jump a short distance in an instant. It's basically short range teleportation. You can use it to reach heights you otherwise couldn't, or place yourself a foot in front (or behind) an enemy for a quick kill. Powers are purchased using runes, which are a collectible item found through-out the world. I spent my runes on extra health slots, upgrading blink, and "dark vision" at the beginning. Dark vision is essentially thermal (or heat) vision, which allows you to see enemies through walls. Even their line of sight is shown, so you can tell which way they're facing. I'm sure a lot of people would rather play without these powers, as they greatly reduce the difficult and take a lot of the challenge out of situations where you need to remain unseen, but they made the game much more enjoyable for me.
Another thing that makes Dishonored stand out, are the decisions left up to the player. While browsing the achievements list, I was surprised to see achievements for completing the game without being detected, and without killing anyone except the main targets. Even then, many of the main targets could be spared, if you chose to. It was interesting to see people's perspective of Corvo change as the body count climbed. As I mentioned earlier, I found remaining undetected pretty difficult, so ended up killing quite a few enemies. Although I did end up sparing some of the main targets, and finding other ways to deal with them by way of side-quests.
While there were some great moments, and I did enjoy a lot of the time spent traversing Dunwall, overall I didn't enjoy Dishonored all that much. I pretty much only stuck with it because I bought it, and wanted to at least see it through. Its slow pace and obvious story left a lot to be desired.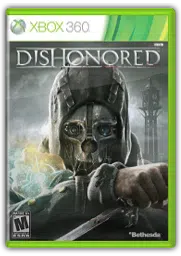 ---