Development Projects
HTML/CSS Build & WordPress Development
Over the past couple years, I've spent a great deal of time building sites for Toronto's Takeover Studio. As such, my design portfolio has become rather stagnant, but you can see some of my code in action…
HTML • CSS • Mobile • WordPress

HTML • CSS • Mobile

HTML • CSS • Mobile • WordPress
HTML • CSS • WordPress

HTML • CSS • Mobile • WordPress

HTML • CSS • Mobile • WordPress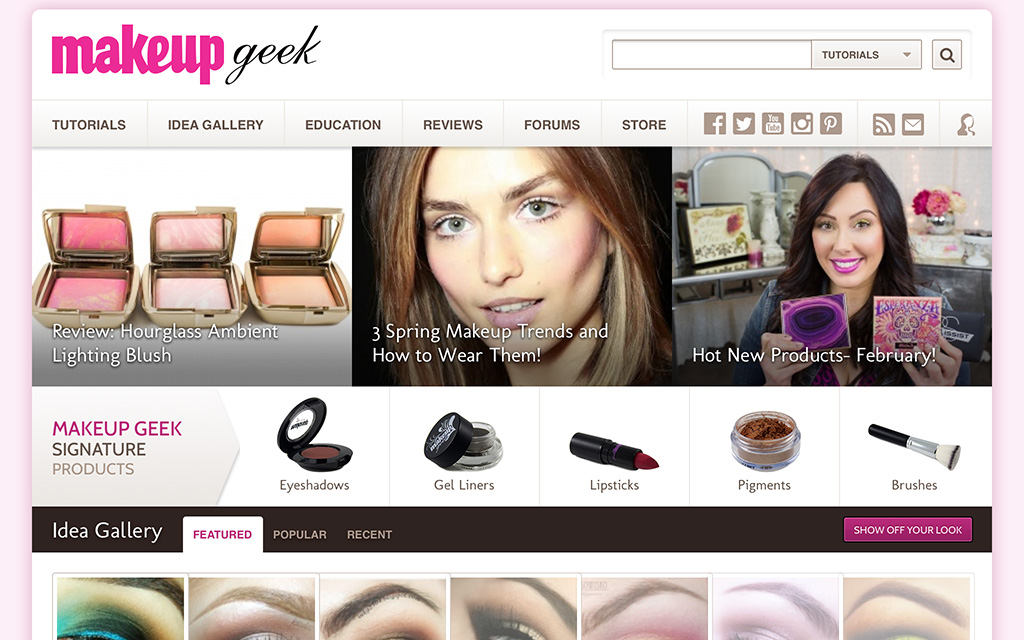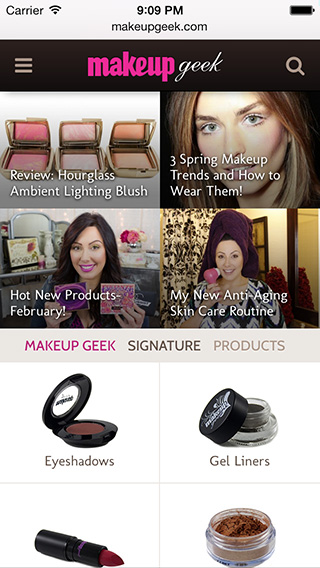 Makeup Geek
Easily the biggest project I've handled during my freelance career, the 2013 redesign of Makeup Geek was an absolutely massive undertaking. Powered by WordPress, BuddyPress, and bbPress, there is nearly 100 templates in the theme directory. It was months in the making, but I couldn't be happier with the end result.
Custom Design
HTML/CSS
WordPress Development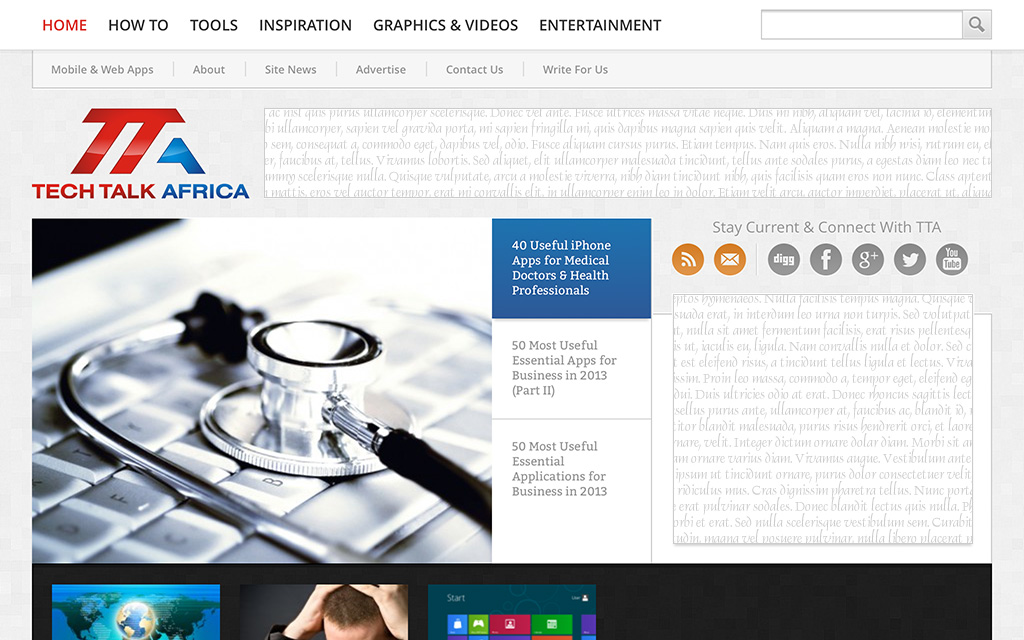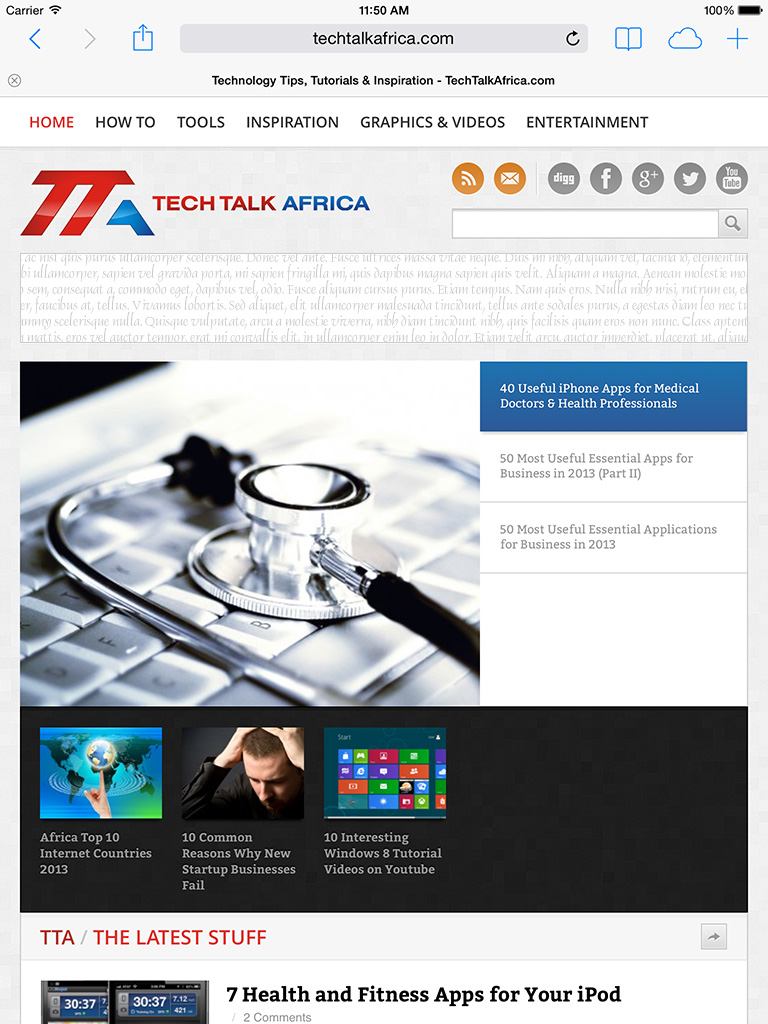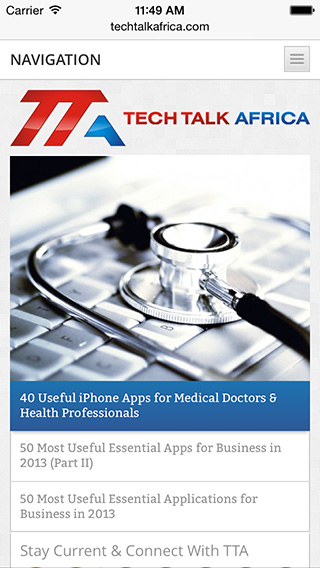 Tech Talk Africa
When I was approached to redesign Tech Talk Africa, I wasn't overly enthused. There are a lot of ads, and a lot of content, which means design typically takes a back seat and there really isn't much flexibility in terms of layout. But in the end, I'm quite happy with it, and had a lot of fun working on the mobile layouts. TTA is sporting a mobile first responsive design, and is "retina display ready".
Custom Design
HTML/CSS
WordPress Development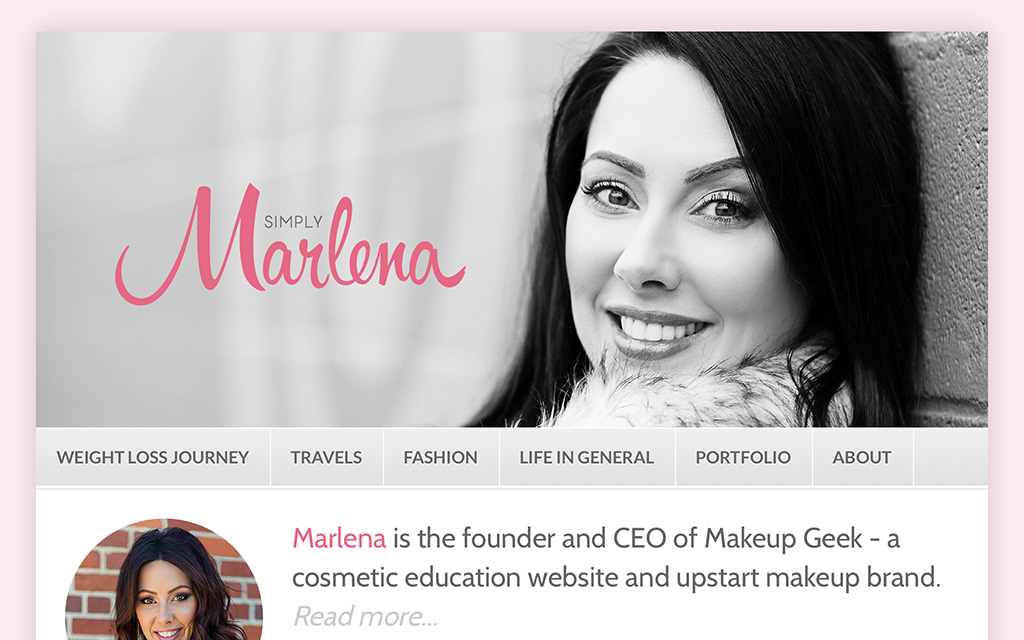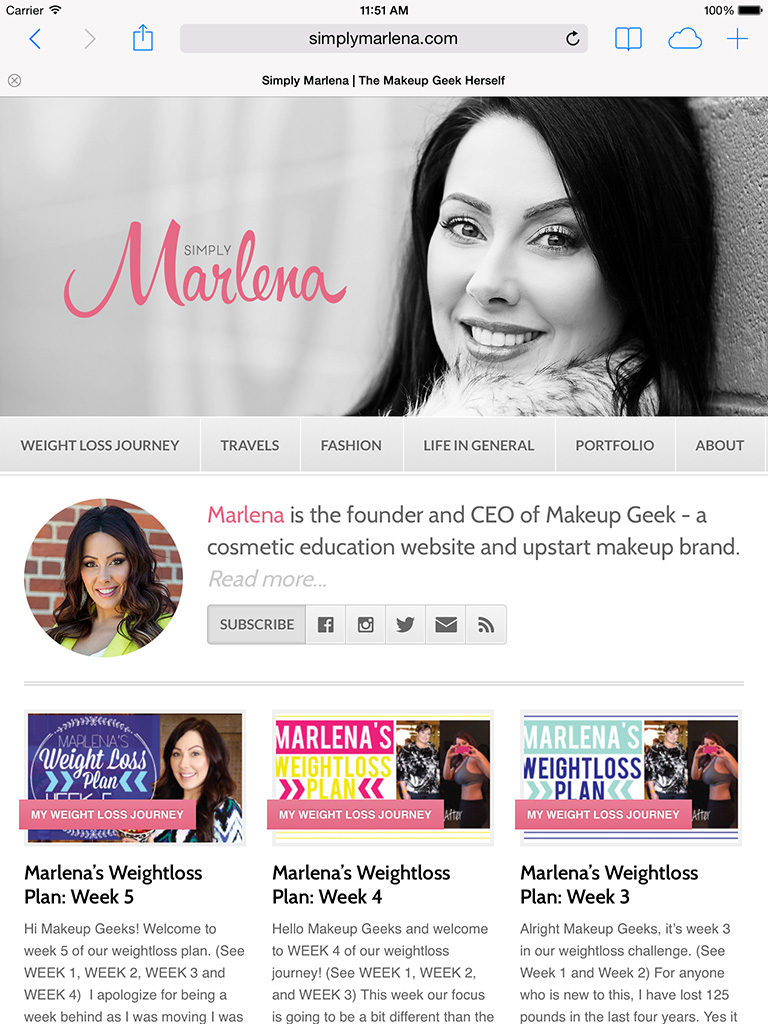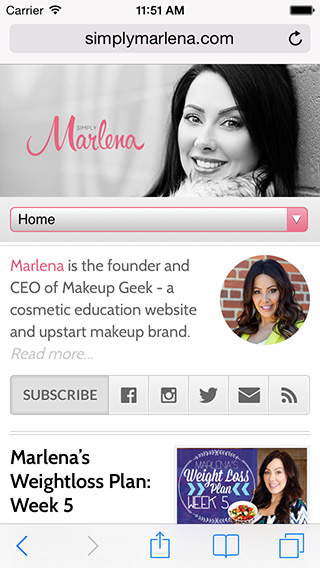 Simply Marlena
I've been working with Marlena for a few years now, primarily on her flagship site, Makeup Geek. Initially, she wanted to customize one of my themes, but I talked her into doing a brand new design, so I could make it responsive and fully cater to the visual style she was after. The end result, is this beautifully simple design that scales right down to mobile phone resolution, and sports 2x graphics for retina display devices, including the new iPad.
Custom Design
HTML/CSS
WordPress Development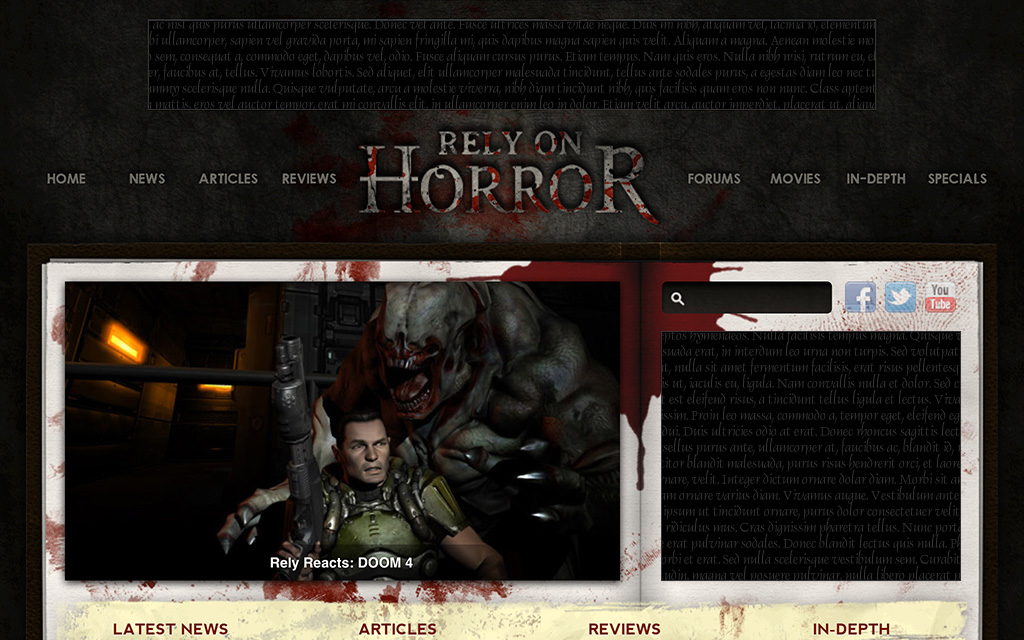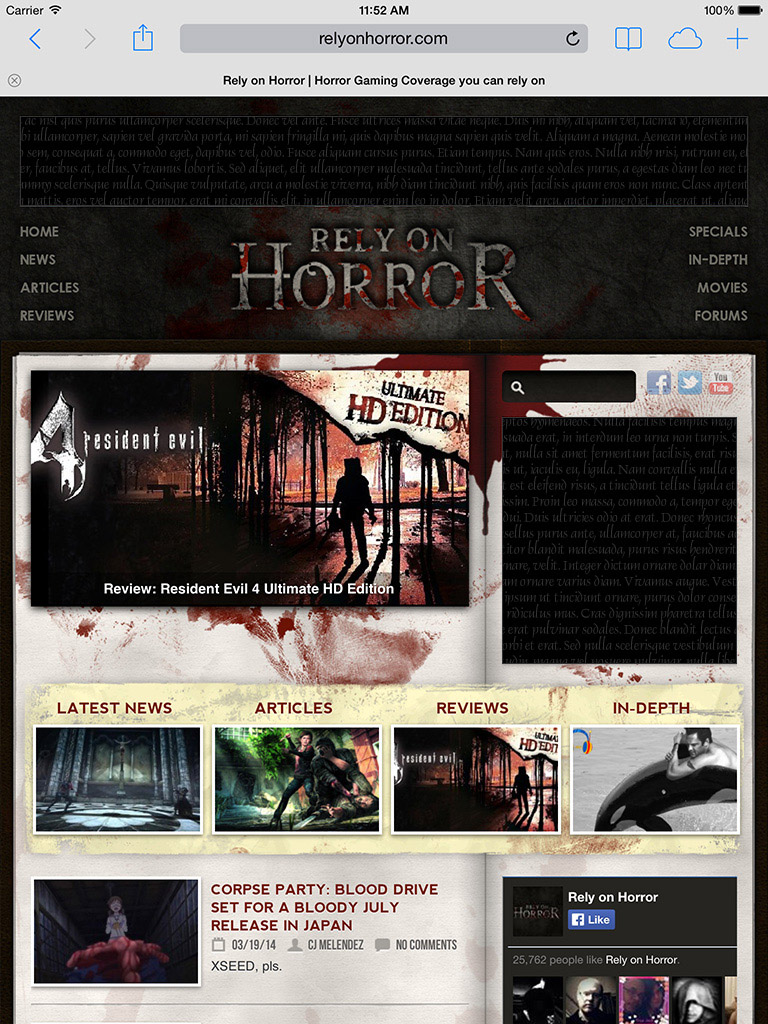 Rely on Horror
2012 will hence forth be known as the year of super fun projects! In February, I did a major redesign for a well established video game blog focusing on the survival horror genre. Having played several games in the genre, and being a long-time fan of the Resident Evil series, I was thrilled to have the opportunity to work on this site. It should feel very familiar to those who are fans of the genre.
Custom Design
HTML/CSS
WordPress Development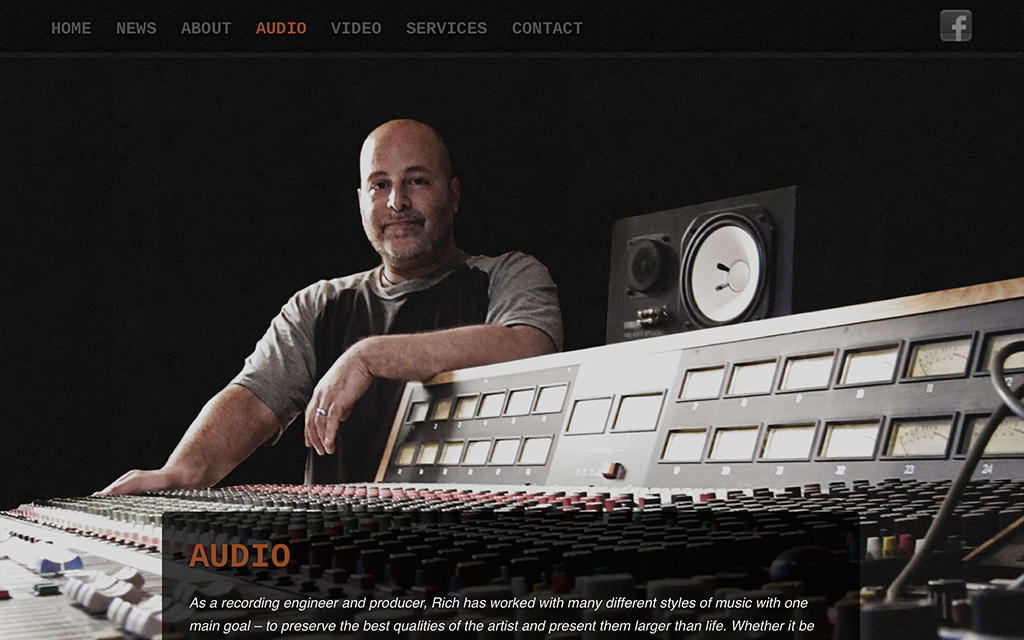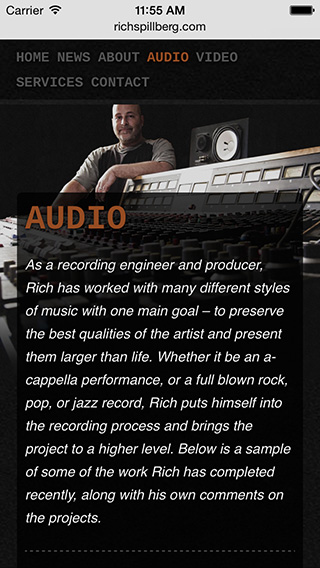 Rich Spillberg
To say I had a lot of fun working on this site, would be an understatement of epic proportions. Rich came to me with a collection of excellent photos, a load of content, and enthusiasm for modern technology and best practices that rivalled my own. Essentially, a perfect foundation for creating something awesome. I knew right out of the gate that I was going to take a responsive approach here, and Rich was more than game. The end result is a site that scales beautifully across various screen shapes and sizes.
Custom Design
HTML/CSS
WordPress Development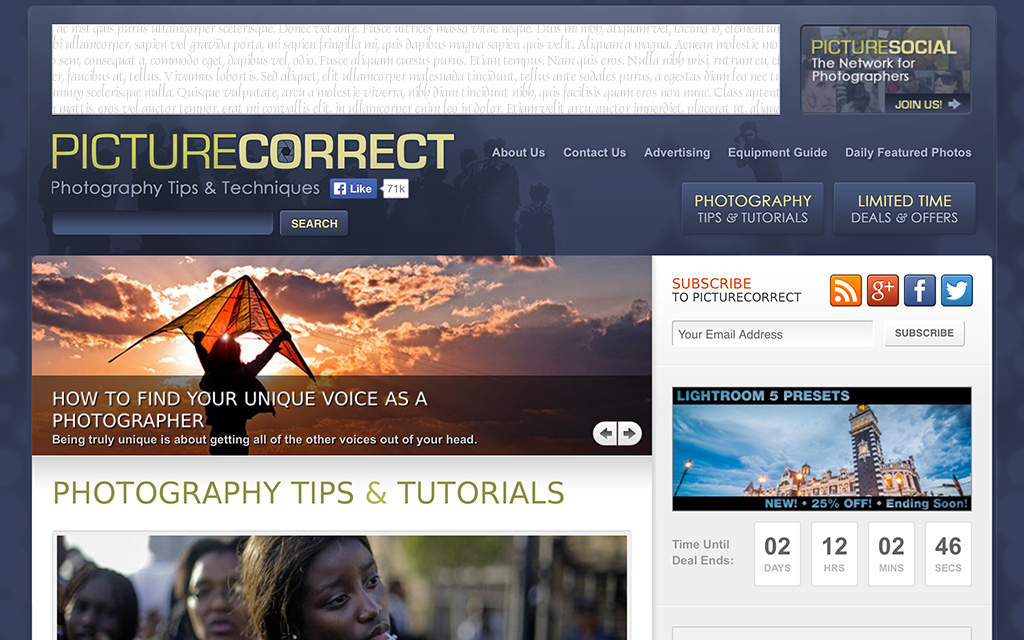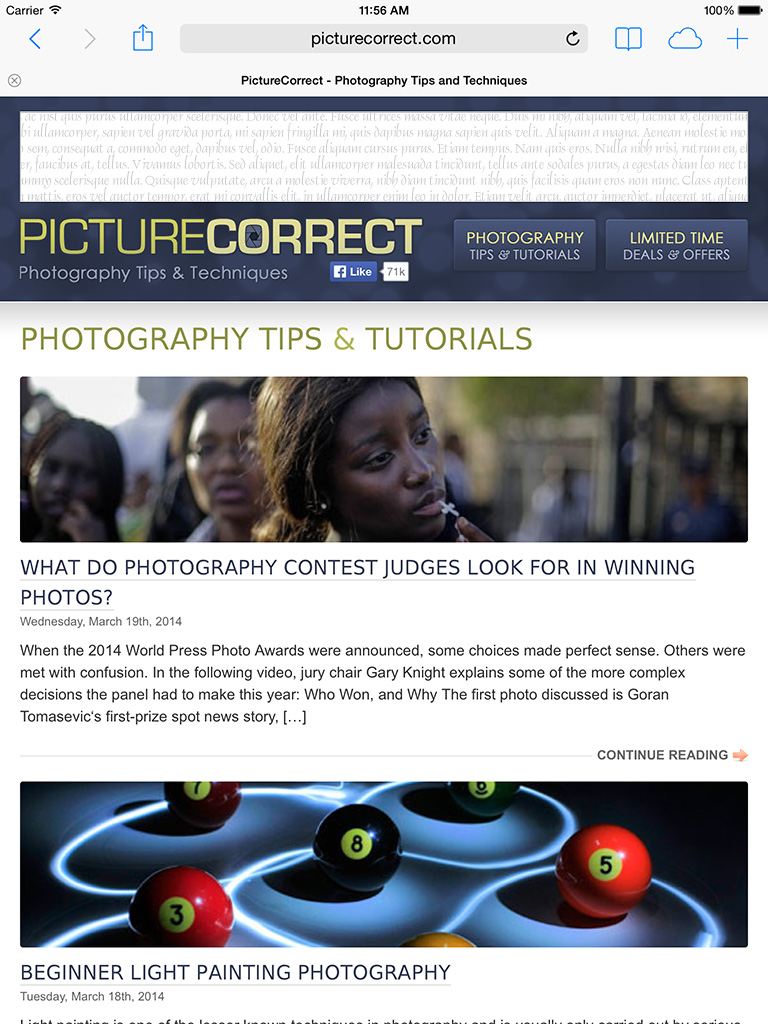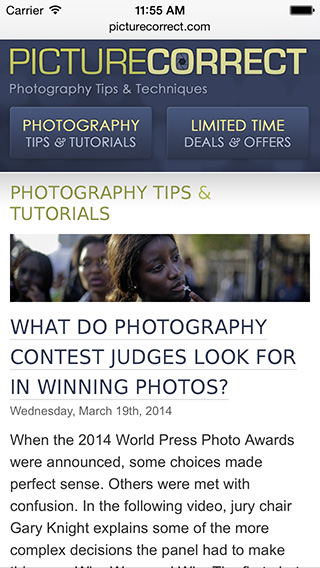 PictureCorrect
One of my personal favourites, PictureCorrect was the second large photography blog I redesigned in 2009. It was a challenge to come up with a style that was entirely different from Digital Photography School, considering much of the content is similar in nature. But the end result is something both my client and I were extremely pleased with. In January of 2012 I revisited this project and made the layout adaptive for mobile devices.
Custom Design
XHTML/CSS
WordPress Development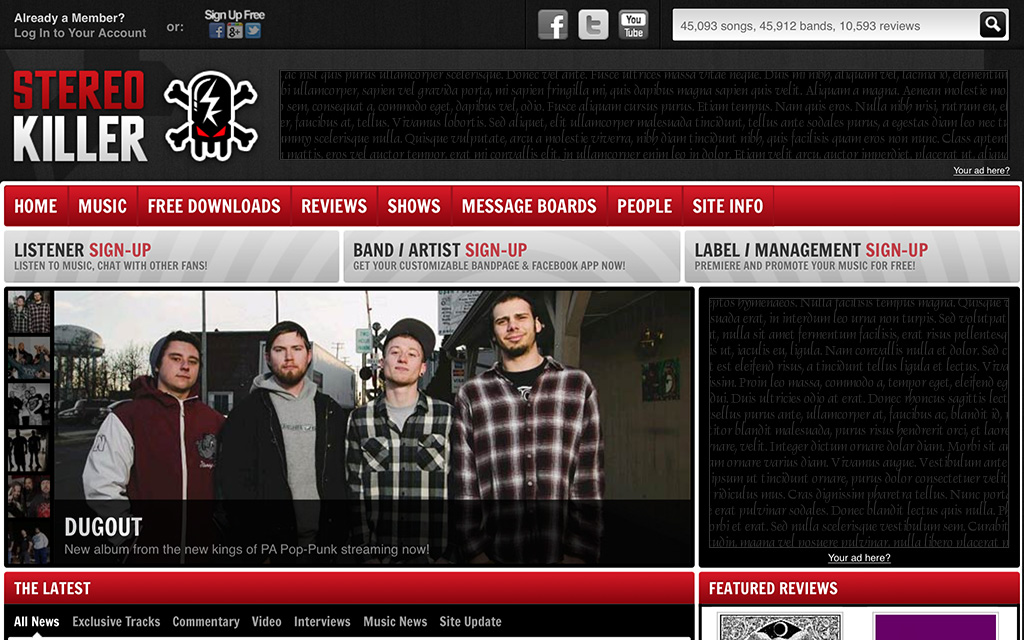 Stereokiller
Having spent my youth playing in punk rock bands, I was stoked to have the opportunity to work on a music community that focuses on independent bands in the hardcore, meta, and punk rock genres. Stereokiller is run by a lone developer, who came to me for help with the design. I did a full redesign of the site over the course of a few months, and provided HTML/CSS templates for each of the unique layouts.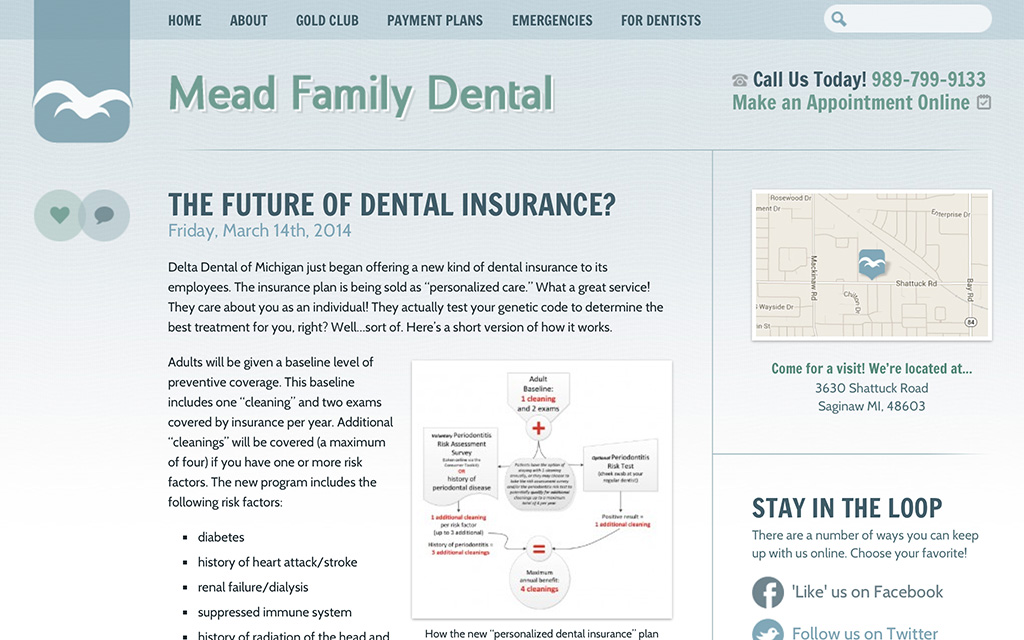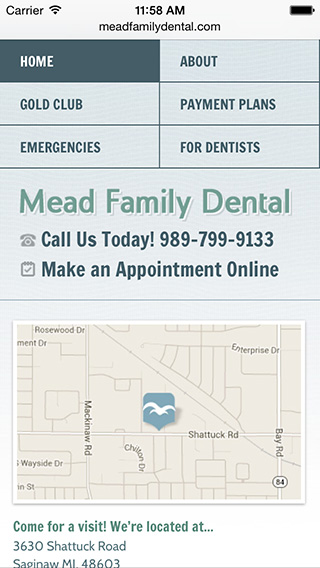 Mead Family Dental
Dentist websites are a dime a dozen. Usually designed by a firm who ships customized templates; they're typically quite dull and look out-dated. Alan Mead came to me because he didn't want to have just another boring dental site. Initially launched in July '11, I revisited Alan's site in March '12 to make the layout adaptive for mobile devices; tablets and phones.
Custom Design
HTML/CSS
WordPress Development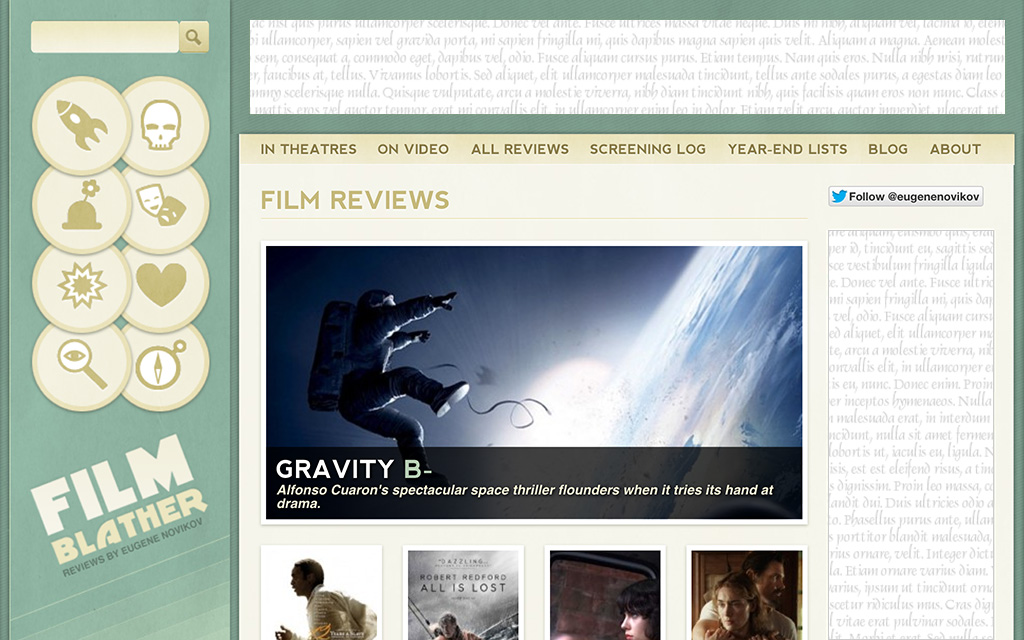 Film Blather
It's always fun taking an old site and giving it a fresh coat of paint. Film Blather was one of these projects, but it also received an overhaul of the back-end. Previously powered by a home-brewed database, Film Blather has been moved to WordPress and everything is managed from WP-Admin thanks to Custom Post Types and Taxonomies.
Custom Design
HTML/CSS
WordPress Development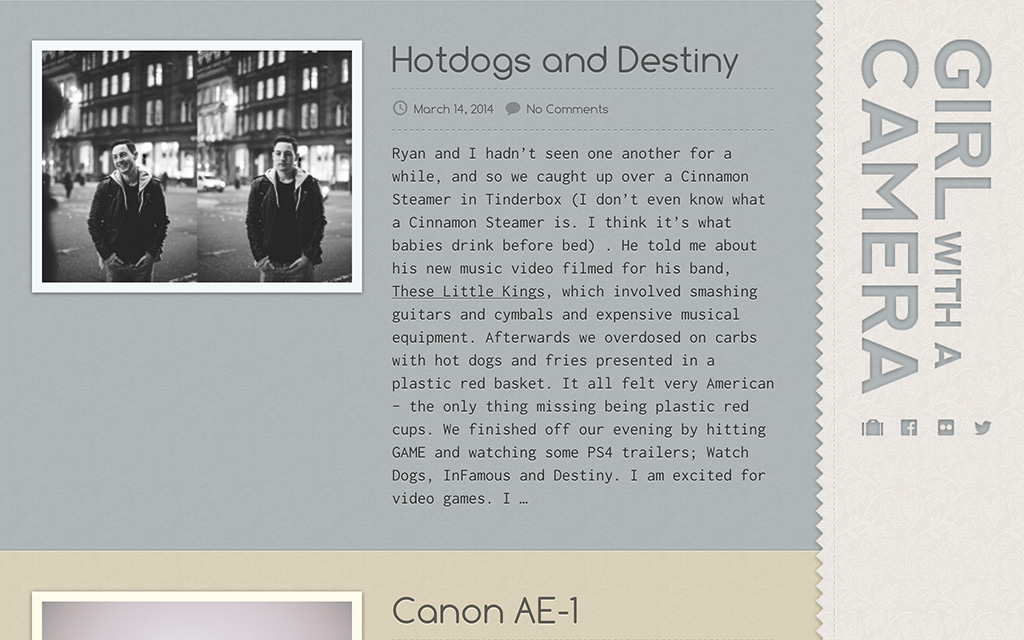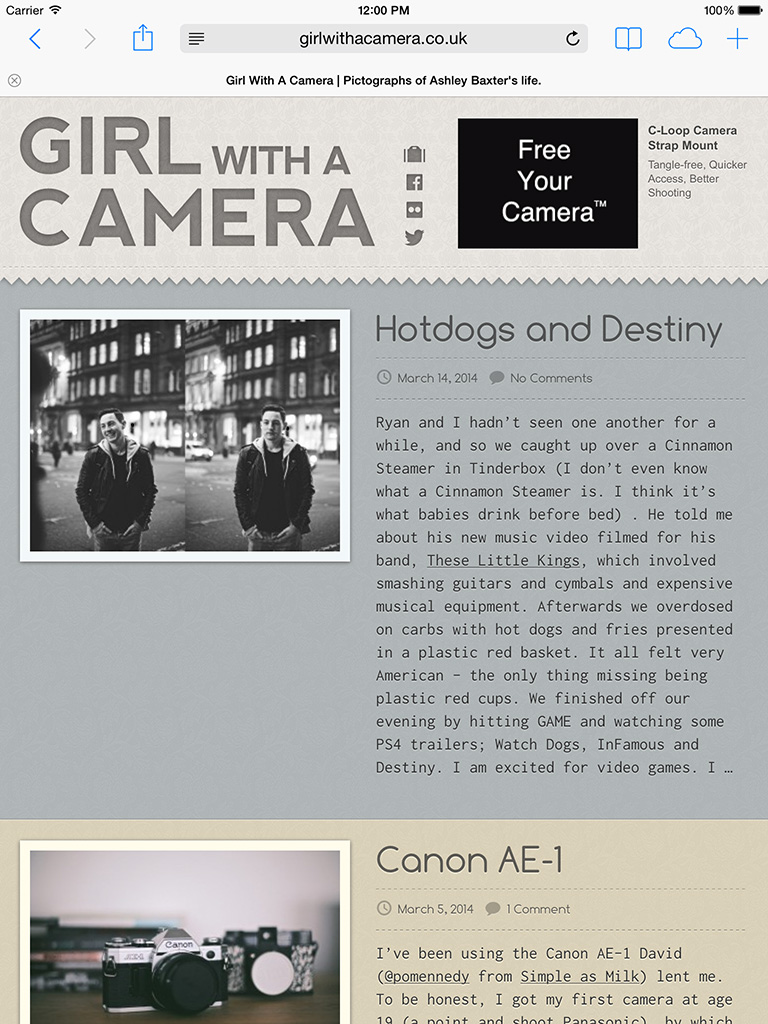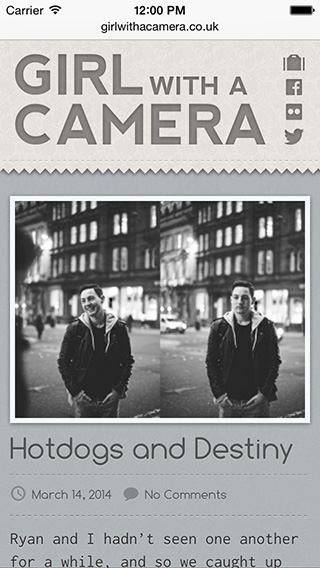 Girl With A Camera
To say I had a lot fun with this project, would be a massive understatement. This was my first venture into HTML5, and I took the opportunity to deck out Ashley's photoblog with all sorts of CSS3 frills as well. One of the main challenges, was deciding on a colour scheme. Since each photo set could potentially have a dominent colour through-out, I came up with the idea of having the background colour change for each post (set). Along with the background colour, Ashley has the ability to adjust the size and positioning of the hero photo and thumbnails for each post, to provide an optimal viewing experience.
Custom Design
HTML/CSS
WordPress Development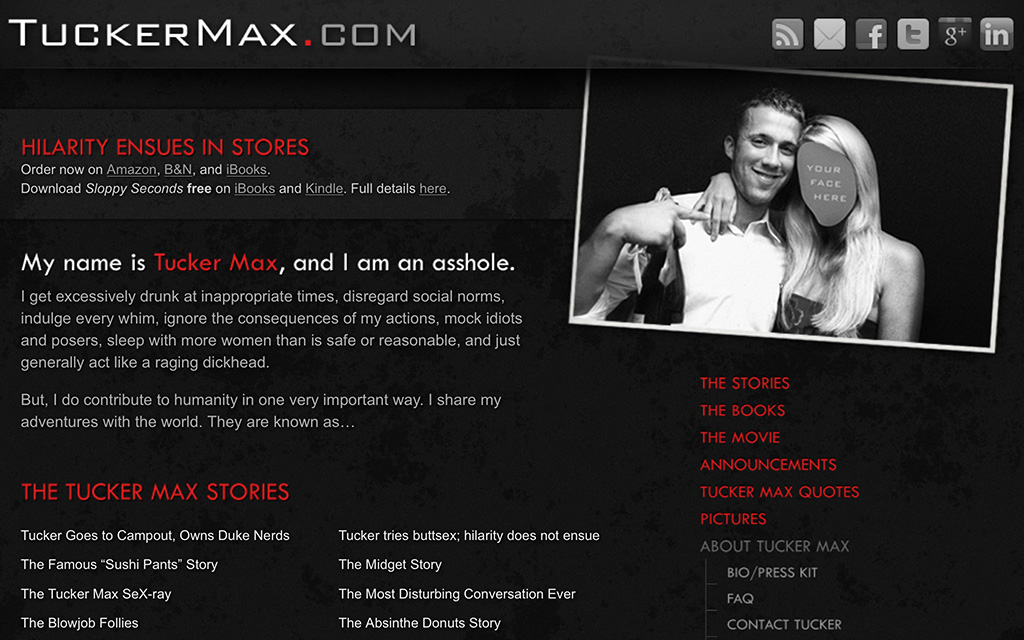 Tucker Max
Tucker Max is many things (yes, an asshole being one of them), but one thing is for sure – he is one busy dude. He has a lot going on, all the time, and needed a website where his fans and followers could keep tabs on it all. Previously, he had separate sites for his stories, his books, his movie, and so on. The main goal of this redesign, was to pull it all under one roof, give him the ability to manage content on his own, and maintain the style and attitude that is Tucker Max.
Custom Design
XHTML/CSS
WordPress Development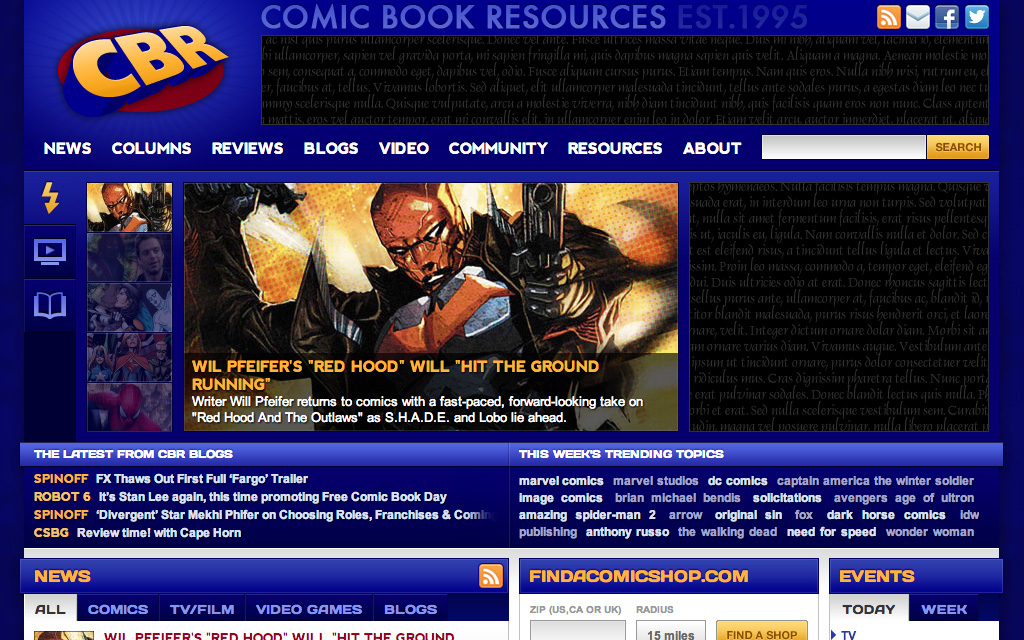 Comic Book Resources
Without a doubt, the largest site I've worked on. CBR was initially launched in 2008, and has seen constant growth with new sections being added or overhauled regularly, which have mostly been handled personally. In May 2010 I revisited some of the global elements and gave the site a bit of a visual refresh, but the main style has remained in tact since its '08 launch. So far in 2010, we've added an events calendar, and a comic books Twitter directory.
Custom Design
XHTML/CSS
WordPress Development